Best gaming laptop under $1,500: best mid range gaming laptops 2023
The ultimate guide to five of the best gaming laptops under $1,500
Updated: Jul 13, 2023 11:46 am
01

A superb value AMD Radeon RX 6800M GPU gaming laptop

ASUS ROG Strix G15 Advantage Edition (300Hz 1080p)

02

03

ASUS ROG Strix G17 (RTX 3060, 5900HX)

ASUS ROG Strix G17 (RTX 3060, 5900HX)
If you're looking for the best gaming laptop under 1500 USD, we've got you covered right here. Each of the five gaming laptops we have selected has different pros and cons which we will list, as well as talk through the various specifications of graphics card, CPU, RAM, display, storage, and ergonomic features.
Gaming laptops under $1500 are typically seen as 'mid-range' – offering the power to play all the latest games, though not necessarily on the highest settings. They might lack some of premium features of bigger budget laptops, but are the price point that's most suited to the average consumer. Let's dive right in!
Today's best gaming laptop deals
The below selections represent the best gaming laptops under $1,500, chiefly based on MSRP, however you can sometimes do even better by taking advantage of deals and offers that allow you to get more powerful devices for the same amount of money. Take a look at the best gaming laptop deals today on Amazon and see what you can snap up!
Best gaming laptop under 1500 USD: Products at a glance
ASUS ROG Strix G15 Advantage Edition (300Hz 1080p)
MSI Katana 15 B12VGK
Nvidia GeForce RTX 4050 / 4060 / 4070
ASUS ROG Strix G17 (RTX 3060, 5900HX)
Gaming laptop deals are live! Get huge savings on gaming laptops on the Lenovo Store, Best Buy or HP in 2023, as well as Amazon of course. Laptop deals are a great way of getting your hands on devices that would normally be out of your usual price range. We've listed a few options below:
---
Best gaming laptop under 1500 USD: In-depth review
Best value gaming laptop under 1500 USD
ASUS ROG Strix G15 Advantage Edition (300Hz 1080p)
AMD Radeon RX 6800M GPU

AMD Ryzen 9-5900HX CPU

3ms response time

300Hz display

Terrific value

Great battery life

Respectable speakers
slow stock RAM bottlenecks performance

only 512GB SSD

no webcam

no SD card reader

AMD GPU lacks Ray Tracing and DLSS
This the first major release of AMD's Advantage series of laptops, which come equipped with RDNA 2 core components and must reach an overall standard of power and performance efficiency. In most areas, the ASUS ROG Strix G15 Advantage Edition does not disappoint. The AMD Radeon RX 6800M GPU, coupled with the Ryzen 9 5900HX CPU are the real highlights here, and for this price you won't find gaming performance like this in any other laptop. Even with the RAM bottleneck issues (discussed below), the RX 6800M graphics card performs about as well as an RTX 3070 (laptop version).
The 1080p 300Hz display is a great feature at this price point, although a refresh rate this high on anything but the most powerful machine is considerable overkill and you're unlikely to ever even get close to this ceiling in FPS terms. The reported 3ms response time is again very fast for a laptop of this MSRP – and a welcome feature for competitive gamers. In terms of color replication, contrast, and brightness the G15 Advantage Edition doesn't match up to the likes of Razer and Alienware, but it does the job when gaming.
The laptop has a nice aesthetic overall – with some red 'gamer' details and different colored WASD keys but overall it wouldn't look out of place in an office setting. The bezels around the display, with the exception of the chunky bottom one, are pleasingly thin. Ergonomically the laptop isn't the lightest around, but this is the sacrifice one must make for a laptop of this power and battery longevity.
On to the battery life: expect around 9 hours doing non-graphically strenuous office tasks and web-browsing, which for a gaming laptop with components this powerful is very impressive, and speaks to the claimed power efficiencies of AMD Advantage machines. Battery life when gaming though is still about what you'd expect for most gaming laptops – i.e. around an hour.
You can tell that ASUS and AMD have really tried to push the gaming focus of these machines – cutting out the webcam and SD card reader to save on costs, which might put some people off. The 512GB SSD is also half as small as it should be in our opinion, and would benefit from an upgrade / supplementary HDD. One area that usually suffers but which actually is surprisingly good in this laptop however is the audio – whilst not matching the lofty heights of a MacBook Pro it actually has respectable bass tones and is suitable for watching Netflix and the like.
The biggest drawback of the ASUS ROG Strix G15 Advantage Edition however, is the RAM. As has been found through various testers since the machine's release, the stock RAM that comes with the laptop is clocked to fairly inferior speed, and has been reported to decrease performance by as much as 20% in some extreme cases, though typically up to 10% – an unacceptable bottleneck by anyone's standard. Fortunately, the RAM can be upgraded to remove this issue, though obviously we'd rather not have to do that. Still, the ASUS ROG Strix G15 Advantage Edition is a gamer changer in terms of what a gaming laptop for this price can do and we heartily recommend it.
Gaming laptop under 1500 USD with the most powerful GPU
MSI Katana 15 B12VGK
Nvidia GeForce RTX 4050 / 4060 / 4070
Very cheap

Nvidia 40-series graphics at a great price

1TB SSD
Low screen brightness

Low TGP GPU options

Low build quality
The latest MSI Katana 15 from 2023 can be equipped with an Nvidia RTX 4070 GPU – the most powerful laptop graphics card on this page. The fact you can buy an RTX 4070 laptop for this price is quite frankly astounding, but the device cuts a lot of corner to be so affordable.
Firstly – a big caveat – the RTX 4070 in question is one of the most low-powered of its namesake available. In TGP terms, the voltage it can actually draw on is below that of its fellow RTX 4070 laptop GPUs, meaning less FPS performance in-game. It's still more graphically powerful than any other machine on this page though, so is still great value.
Paired with this is a previous-gen Intel 12th gen laptop CPU (though this is by no means a bad thing) – the Intel Core i7-12650H, which remains a solid performer. You also get a tasty 1TB SSD, which is nothing to be sniffed at. All variants of the machine come with the latest DDR5 memory, although the one in the price range of this guide is limited to 8GB of RAM. Personally we'd advise spending the extra $50-100 for the 16GB version, or upgrading the laptop's RAM yourself as soon as you get your hands on it.
In terms of build quality, this is a pretty plasticky and cheap feeling laptop as you'd expect, the keyboard and trackpad aren't great plus the display brightness leaves a lot to be desired, but for the price you pay for this level of power, these may be worthwhile trade-offs.
Best 16″ gaming laptop under 1500 USD
ASUS ROG Strix G16 (i7-13650HX)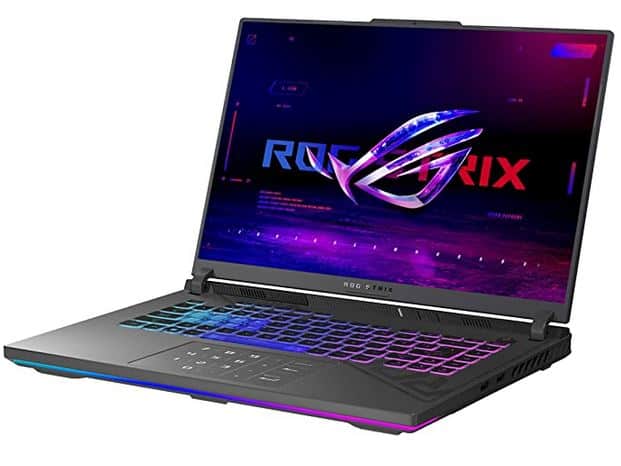 NVIDIA GeForce RTX 4060 (140W)
High TGP GPU

MUX Switch & Advanced Optimus

Great cooling system

Decent value

Respectable speakers
only 512GB SSD

no SD card reader
Slightly out of the price range of this guide at the time of writing, but still definitely well worth your consideration, is the ASUS ROG Strix G16 with RTX 4060 graphics card and Intel Core i7-13650HX processor. The RTX 4060 laptop GPU is a great performer and the CPU is a great upper-mid range SKU in the latest Intel 13th gen laptop CPU range. The machine also comes with Conductonaut liquid metal cooling to minimize thermal throttling and maximize in-game performance.
Besides this you get 16GB of the latest 4800 MHz DDR5 RAM, and a 512GB SSD. The 16-inch display is nice and bright and the additional size gives you extra immersion when gaming, and the 165Hz refresh rate is as fast as the majority of gamers will realistically need it to be.
Although the build of the laptop is plastic, like pretty much every other selection on this page, ASUS machines generally have good build quality. The RGB strip at the front is a nice finish.
Best 17″ gaming laptop under 1500 USD
ASUS ROG Strix G17 (RTX 3060, 5900HX)
AMD Ryzen 9 5900HX CPU

17.3″ display

32GB RAM

1TB SSD

Extensive adjustable LEDs
no webcam

loud under load

no SD card reader

no Thunderbolt support
The Asus ROG Strix is the perfect way to indulge in a larger display if that's the route you wish to take for your gaming. At 17.3", the IPS 144Hz 1080p resolution is very inviting at it also comes with solid color replication and decent contrast and brightness.
Other than the expansive display, the latest version of this laptop comes with an Nvidia RTX 3060 Max-Q GPU, which is about on par with the RTX 2070 of the previous generation in terms of performance but comes with the latest software support of the 30-series, including DLSS 2.1 and Ray Tracing. If you can find one of these laptops specced out in this setup for around $1,500 then we'd snap it up ASAP, though somewhat out of the price range of this guide at present, we've seen it reduced to around the 1500 USD level before.
With an AMD Ryzen 9 5900HX at the helm, supported by 32GB of DDR4 RAM and 1x M.2 SSD, the ROG is ready to shoulder intensive parallel workloads, so if you're a content creator or you like to stream while you game and have a few tabs on the go, this laptop is a solid choice.
The first thing you'll notice upon flipping the Strix lid is that you're blasted in the face with LED power. This thing has light coming out the wazoo, but if you like more of a lowkey design, you can switch them all off. Holding all those lights together is a rigid, brushed metal build, with little to no flex, kept cool by a liquid metal thermal compound.
Also consider
Acer Predator Triton 500 PT515-52-73L3
Hyperthreaded 10th gen i7 CPU

300Hz refresh rate 1080p display

RTX 2070 graphics card

Solid build

16GB DDR4 dual-channel memory

Tweakable RGB light display
Expensive

Keyboard could be more ergonomic

Top and bottom bezels are quite thick
The Predator name is an absolute classic, and with a 300Hz 15.6" display and an RTX 2070 Super GPU, it's the Triton that's going to offer you the most visually stunning gaming experience of any of the laptops on our list, but the good news doesn't start and end with visuals.
Featuring a 10th gen i7 10750H 6-core processor, and 16GB DDR4 memory, the Triton offers smooth performance for general computing, and thanks to the particularly rugged enclosure, it's primed to handle the rigors of the commute.
The keyboard is of reasonable quality, but some might be put off by the single row enter key and the fact that the arrows are squashed in cheek to cheek with the other keys.
In terms of connectivity, you get a pretty impressive array with a single USB-C Thunderbolt port, three USB 3.2 ports, an HDMI 2.0 port, an ethernet port, and a mini display port.
This Acer Predator isn't exactly cheap. Some would definitely rather forfeit some of the specs for a more affordable laptop. Things like the 300Hz refresh rate might be a little unnecessary for typical day-to-day gameplay, but that juiced refresh rate is the very thing that's going to help you thrive in competitive gaming contexts.
---
Things to consider when buying a gaming laptop under $1,500
Let's run over some of the essential criteria you need to look into when you're shopping around for a new gaming laptop.
Is the best gaming laptop under 1500 USD worth buying?
In short: yes! For 1500 USD you should be able to get yourself a very capable gaming laptop that can play the latest, most demanding games on at least the minimum settings for a decent FPS. Spending more money will obviously get you more performance and let you crank those settings even higher. $1,000 is probably the least we'd recommend spending on a gaming laptop if you're interested in playing new games, and although you can get decent performance for this price – $1,500 is what we'd consider the sweet spot of performance/price.
Display
Once you've settled on the display size you're after, you need to contemplate panel type. IPS panelling is generally considered the best for gaming as it features greater image acuity and color depth.
Next, you'll need to think about resolution, refresh rates, response times, and color gamut. You're unlikely to find 1440 resolutions in this price range, but 1080 is often preferred for gaming anyway. The refresh rate should be at least 144Hz, and anything below 5ms is a suitable response time. In terms of color gamut, you should expect between 97-100% sRGB at this price.
Thermals
Being so small, gaming laptops can really struggle to stay cool sometimes. They just don't have the space to incorporate thermal solutions the way desktops do, which is why it's important to examine the fan system in place.
Even though the fans need to be small, a little bit of ingenuity on the manufacturer's part, tweaking blade length, angle, speed, and location, can amount to an incredibly capable and quiet cooling system.
CPU
The CPU is essentially the control center of your gaming laptop. Combined with the memory configuration, it defines how fast your computer can operate and what sort of tasks it's good for.
The key feature to look out for in CPUs is their core-count. Single cores are best for high-speed gaming, but multithreaded cores are best for parallelizing workflows. 4 cores are considered the minimum requirement for gaming, 6 are ideal, and 8 would be suited for heavy multitasking.
GPU
Your GPU processes graphical information and portrays the images you see on screen. A powerful GPU is essential for streamlined gaming. A weak GPU will amount to a low frame rate and ill-defined graphics.
If you're torn between laptops with similar GPUs, consider their core-count, memory configurations, and clock speeds to ascertain which is best for you. You may also find laptops that have separate graphics facilities to back up the GPU, which can lead to even more impressive visuals and gameplay.
Memory
There are two types of memory you should be aware of: RAM and SSD. RAM is displayed in the "DDR" format. Modern gaming laptops in this price range should have at least a 16GB DDR4 memory type. RAM is fast-acting memory. It's a huge contributor to system responsiveness and helps to boost frames per second.
SSD is your laptop's storage system and is where all your files are kept. The standard at this level is 512GB, which is enough to install and play a good amount of games before an upgrade is required.
Build quality
Being that laptops are so portable, they need to be able to handle the rigors of the road. Granted, you'll probably have a quality bag to transport it in, but with all the picking up and placing down, and possibly even dropping, it still needs to be built well.
All-metal builds provide a lot of impact resistance and give the whole device a nice feel. Single-piece full-metal builds are even better. It's best to avoid plastics where you can, but there are some great laptops out there with hybrid metal/plastic constructions. Strong hinges are also a must.
Some of our other gaming laptop articles
In-depth laptop reviews
'Best of' brand guides
'Best of' price guides
---
Best gaming laptop under 1500 USD : Final Word
So there you have it friends, this has been our best gaming laptop under 1500 USD guide for 2023. If you're interested in gaming laptops that fall within different price ranges, be sure to read some of our other gaming laptop guides under Custom Gaming PC in the top bar of this page.
If portability isn't an absolute necessity and you want more power for your money, have a look at our guides on high-end desktop builds for under $1,500 and also the best pre-built PC for under $1,500.
If there is a specific laptop you would like to see reviewed which we have not yet covered, please leave a comment below to let us know.
---
The best gaming laptops under $1500 in 2023 FAQs
What Is The Best Gaming Laptop For Under $1500?
At present the ASUS ROG Strix G15 Advantage Edition is our pick for the best overall gaming laptop for 1,500 USD – this laptop is currently head and shoulders above the competition in terms of gaming performance per price. However, there are other options on our best-of list which beat this ASUS machine in specific areas such as image quality of the display and storage size – have a quick read to find out which is right for you.
What is the best mid-range gaming laptop?
Mid-range gaming laptops are typically considered to range between $1,000 and $1,500, although this isn't a hard and fast rule. Currently, our best overall gaming laptop for $1500 or thereabouts is the ASUS ROG Strix G15 Advantage Edition. For closer to the $1,000 mark we would recommend the MSI GF65 Thin 9SEXR-838. Do be sure to check out our guides for both these price points though for an additional eight laptops which may be better suited to your particular needs.
Do more expensive laptops last longer?
The functional life of a laptop is not necessarily determined by how much you pay for it, but it does often have an impact. Brands like Razer and Apple tend to charge a premium for their products but build their laptops to a sturdier standard, and you can feel the quality of the materials they use. This does not necessarily mean the internal components of their laptops are engineered to a higher standard however. Efficient internal cooling often means that components will last longer. We suggest reading reviews on specific laptop models for both build quality and cooling before making your purchase.
Which Is The No 1 gaming laptop?
The answer to the question which is the best gaming laptop? is ultimately dependent on how much you are willing to spend. At the time of writing, the best overall gaming laptop, without consideration of budget, is the Lenovo Legion 7 with Nvidia RTX 3080 (laptop version). The best 4K gaming laptop on the market is the MSI GE76 Raider 10UH. Our best mid-range pick is the ASUS ROG Strix G15 Advantage. See our Best Gaming Laptop page for more examples.
Which laptop brand is best?
It's impossible to say one laptop brand, in particular, has the title of best for gaming laptops. The gaming laptop market is competitive and new releases from different brands are constantly contending for the top spot, across a range of different price brackets. That being said, ASUS laptops are the most commonly featured in our best-of lists, across all price points, MSI is another respectable brand, and Razer and Alienware are quality premium brands.
---