Best Acer gaming laptop 2023: Our top picks for different budgets
The best Acer Nitro 5 gaming laptop, Acer Predator Helios 300 & Acer Predator Triton 500 in 2023
Updated: Aug 9, 2023 10:36 am
01

Best current gen mid-range Acer gaming laptop

Acer Predator Helios Neo 16

02

Best previous gen mid-range Acer gaming laptop

Acer Predator Helios 300 (240Hz QHD, RTX 3070 Ti)

03

Best 14-inch Acer gaming laptop

Acer Predator Triton 14 (1600p, i7-13700H)
If you want to know which is the best Acer gaming laptop for your needs, then you've come to the right place. We'll be discussing the best Acer Predator Triton, Acer Predator Helios, and Acer Nitro gaming laptops currently available on the market; discussing their various pros and cons, and whether they're worth your money or not.
Acer are a big name in the general use/office laptop space but also offer many great gaming laptops that are well worth your consideration, particularly in the budget to upper-mid-range area. Without further ado, let's dive right in!
Best Acer gaming laptop in 2023: products at a glance
Acer Predator Helios Neo 16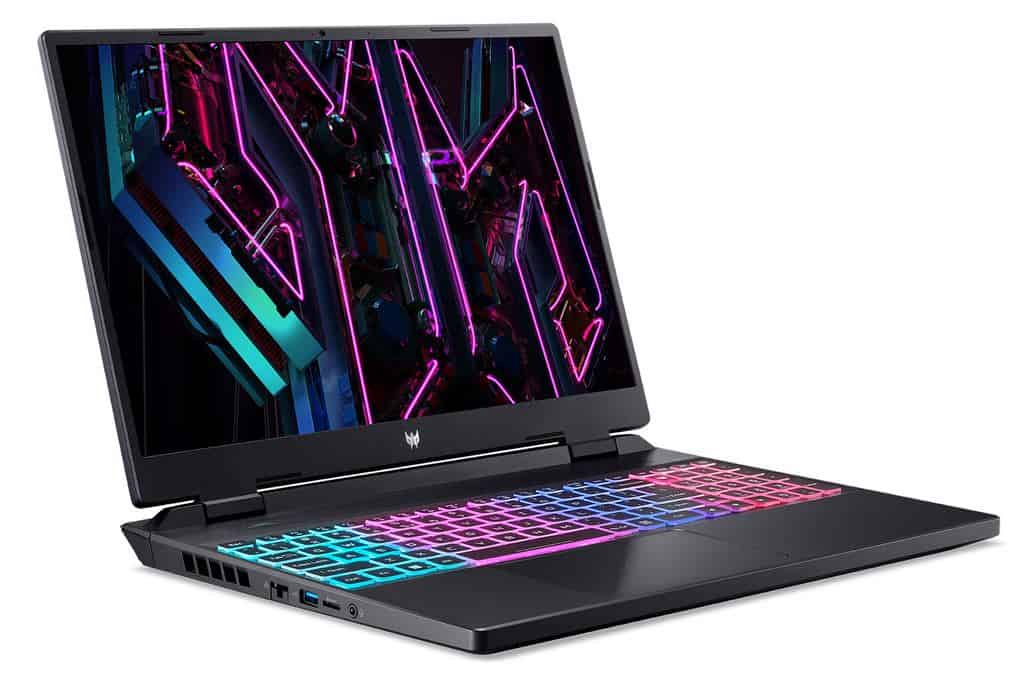 Intel Core i5-13500HX / i7-13700HX
NVIDIA GeForce RTX 4050 / 4060
Acer Predator Helios 300 (240Hz QHD, RTX 3070 Ti)
Acer Predator Triton 14 (1600p, i7-13700H)
Nvidia RTX 4050 / RTX 4070
Acer Predator Triton 17X (250Hz 1600p, RTX 4090)
Acer Nitro 16 (165Hz 1600p, Ryzen 9 7940HS)
NVIDIA GeForce RTX 4050 / 4060 / 4070
---
Best Acer gaming laptop: Reviews
Best current gen mid-range Acer gaming laptop
Acer Predator Helios Neo 16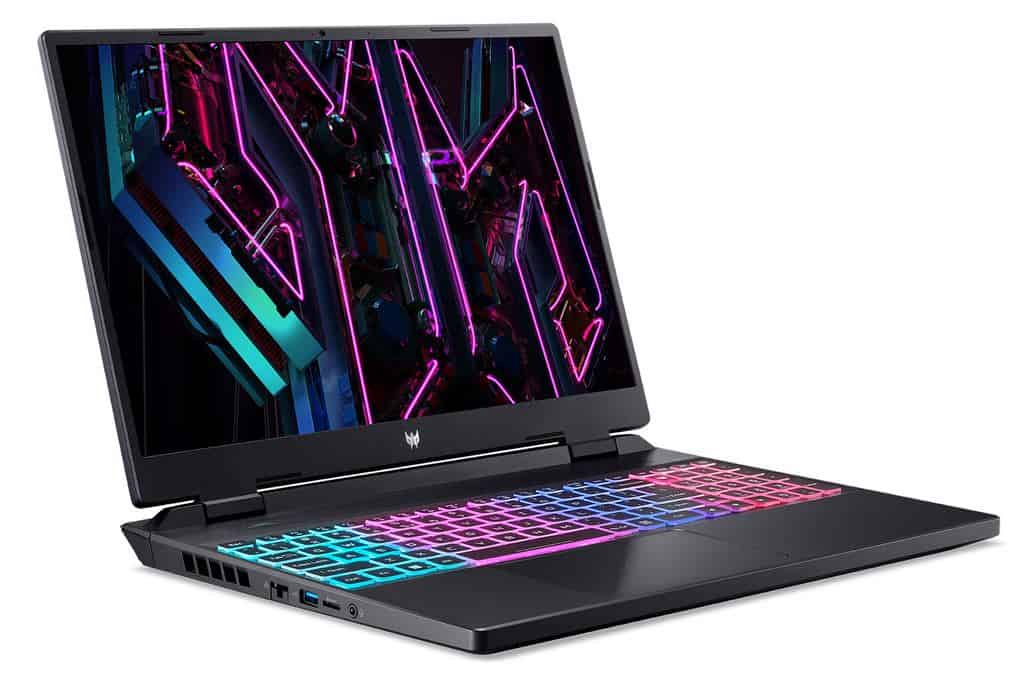 Intel Core i5-13500HX / i7-13700HX
NVIDIA GeForce RTX 4050 / 4060
high-performing CPU and GPU for the money

comes with Advanced Optimus

1600p screen with G-Sync

great peak brightness and good color replication

good battery life for a gaming laptop

good selection of ports & sockets
build quality flimsy around the bezels

fans get loud on the maximum preset

heavy power adapter
The Acer Predator Helios Neo 16 is a fantastic value mid-range gaming laptop. We had the pleasure of doing an in-depth review of the RTX 4060 and Intel Core i7-13700HX model, and though it's not perfect, we were impressed with it on a number of levels.
The laptop provides terrific FPS performance in games without breaking the bank. It has all the benefits of a 40-series GPU, including DLSS 3.0 (meaning additional frame generated FPS in those games that support it if you turn it on) and Ray-Tracing performance. The RTX 4060 laptop variant is a great performing graphics card. Moreover, it comes with a variety of useful ports and boasts a respectable maximum battery life of approximately 7 hours during general usage. The Helios 16 also boasts a bright, high-resolution 165Hz 1600p display with G-Sync, which isn't something you see that often at this price point.
One aspect that leaves room for improvement is the build quality of the bezels, which could be better. The power adapter tends to be on the heavier side, and the most significant drawback comes into play when the Turbo mode pre-set is activated, as it can lead to noisy fan operation. Nevertheless, the onboard software allows for tweaking, and with some adjustments, you can strike a balance between in-game performance and a more manageable noise level. Outside of gaming though, when you switch to Quiet or Default mode, the laptop operates almost silently, which is great for general/office use.
Currently available for around $1,600, the Acer Predator Helios Neo 16 offers a very reasonable price point, making it a highly recommended purchase for gamers seeking solid performance and features without breaking the bank.
Best previous gen mid-range Acer gaming laptop
Acer Predator Helios 300 (240Hz QHD, RTX 3070 Ti)
Good value

Great gaming performance

Fantastic color replication

FreeSync & G-Sync support
low contrast

gets loud under strain

mediocre build quality
The Acer Predator Helios 300 with RTX 3070 Ti is the best of the previous generation of the Helios sub-range, but it's still well worth your time as it actually performs better than the Helios 16 does in those titles where frame-generation isn't enabled (or if you're one of those people that isn't a fan of the technology and prefer 'real' FPS).
The laptop also comes with an option for a much faster 240Hz refresh rate display, and can be bought with 32GB of DDR5 RAM plus 2TB of storage for around the same price as the newer Helios. The 15.6-inch screen might be slightly smaller, and have worse contrast ratio, but is still decently bright and actually has superior color replication; it also comes with FreeSync and G-Sync like the newer model does.
The drawbacks are still present in terms of the slightly plasticky build quality in places, plus the loud fan noise when the machine is set to the highest pre-sets and put under strain. Despite there relatively minor drawbacks though, this is a fantastic value high-end gaming laptop.
Best 14 inch Acer gaming laptop with mini-LED display option
Acer Predator Triton 14 (1600p, i7-13700H)
Nvidia RTX 4050 / RTX 4070
Bright 1600p display whichever panel you choose

Fantastic 250Hz Mini-LED screen option

Fantastic color replication

FreeSync & G-Sync support
gets loud under strain

RAM cannot be expanded after purchase
A new contender in the 14-inch gaming laptop space, the Acer Predator Triton 14 is a very interesting option for one feature in particular: the 250Hz mini-LED display. Although you don't have to pick this (more expensive) option, and the 165Hz IPS screen variant has good peak brightness on its own, the very bright Mini-LED screen with its superb color replication makes it an ideal dual use machine for creative professionals doing color-based workflows alongside their gaming.
Both screen options are also 1660p resolution, which is very nice, with the 16:10 aspect ratio giving more vertical headroom when reading documents/browsing the web – particularly appreciated on a smaller 14-inch display device. Both display types also come with both G-Sync and FreeSync.
As is a running feature with many Acer gaming laptops it would seem, the fan noise on this smaller device does get quite loud on the highest power presets whilst running demanding applications/games, so be aware of this. Also be aware of the fact that the memory won't be upgradable after the point of purchase, which is annoying, basically due to the reverse motherboard design that Acer has decided to incorporate with the latest Triton series. Besides this though, this is a great value portable gaming laptop with a sumptuous screen option.
Best high-end Acer gaming laptop / creative laptop
This previous gen Acer Predator Helios 300 gaming laptop offers the best all round mid-range performance
Acer Predator Triton 17X (250Hz 1600p, RTX 4090)
Superbly bright 250Hz Mini-LED display

16:10 1600p screen

Fantastic color replication

Powerful gaming / creative machine

FreeSync & G-Sync support

Good array of ports including Thunderbolt 4 and full-size SD card reader
Slightly underpowered RTX 4090

RAM difficult to upgrade after purchase

Batter life could be better
The most powerful of the latest generation of Acer gaming laptops is the Acer Predator Triton 17X, equipped with the top-end RTX 4090 laptop GPU. Although it doesn't come cheap, the build quality and features on this machine are superior to all the other selections on this list.
The Triton 17X is a pleasingly thin machine despite its power, but the liquid metal and vapor chamber cooling combo prevents it from running hot. It has a good array of ports and sockets despite being a slimmer machine, including two Thunderbolt 4 ports and an SD card reader, plus comes with the same fantastic 250Hz Mini-LED panel that's an option for the Triton 14. The screen has 100% DCI-P3 coverage, meaning its ideal for color-based workflows.
However, whilst there are many impressive elements to this premium gaming laptop, there's a couple of caveats you should be aware of. The main drawback is that the RTX 4090 GPU, whilst still monstrously powerful, is actually relatively underpowered in TGP terms compared to some of the bigger hitters out there, meaning its performance is close to that of an RTX 4080 in most gaming scenarios. Additionally, the reversed motherboard design that Acer have use to try and keep the laptop thinner makes it almost impossible to upgrade the RAM and SSD on the laptop after the point of purchase, even though technically the slots are there to enable you to do so.
Still, besides these points, this is undoubtedly a very impressive machine.
Best budget Acer gaming laptop
Acer Nitro 16 (165Hz 1600p, Ryzen 9 7940HS)
NVIDIA GeForce RTX 4050 / 4060 / 4070
Good performance for a budget laptop

Decent build quality for a cheap machine

165Hz 1600p display

16GB DDR5 RAM & 1TBGB SSD

Respectable contrast
Screen could be brighter

Battery life could be better
The Acer Nitro 16 represents the latest iteration in the renowned Acer Nitro series, having dropped the "Acer Nitro 5" moniker. This 16-inch laptop comes equipped with an RTX 4070 graphics card and an AMD Ryzen 9 7940HS CPU, making it an excellent choice for budget-conscious buyers.
While cheaper alternatives like the MSI Katana 15 B12VGK with RTX 4070 exist online, one must be cautious about compromising on quality for the sake of a lower price. The MSI laptop may suffer from subpar screen performance in terms of low brightness, color reproduction (limited to 1080p), and inferior gaming performance due to its core components. Hence, we recommend avoiding it.
In the case of the Nitro 16, its RTX 4070 boasts a decent TGP, delivering satisfactory performance when paired with the Ryzen 9 7940HS. The budget-friendly machine also features a 165Hz 1600p screen, which, while not as exceptional as other choices, still manages to meet expectations given its core specifications and affordability.
Regarding battery life, the Nitro 16 offers around 4 hours in energy-saving mode, which is not exceptionally long but reasonable for a more economical device. Furthermore, its overall build quality impresses, making it a solid option for those seeking a lower-priced laptop.
In conclusion, the Acer Nitro 16 stands as another commendable budget entry in the Acer Nitro series, providing a well-balanced package for users looking to save on costs without compromising too heavily on performance and quality.
---
Things to consider when buying an Acer gaming laptop
Acer Predator Triton vs Helios, which is better?
The Acer Predator range is the premium gaming laptop line from Acer, though there are two sub-brands within it with slightly different offerings, namely: the Acer Predator Triton and the Acer Predator Helios.
The Acer Predator Helios 300 gaming laptop range was first released in 2017, and the Acer Predator Triton 300 first came out in 2019. Triton/Helios '500' series have subsequently been released. Triton and Helios models are usually are quite similar, but with some key differences: Acer Helios battery life tends to be a couple of hours longer than the Triton's, but they are bigger and heavier laptops, and less portable than the relatively slimline Triton. Build quality on the Acer Tritons tends to be a bit better, with a higher proportion of the chassis being made of metal, they are more likely to have features like G-Sync support, and they have more options for higher-powered upgrades. The Tritons are however usually pricier than an Acer Helios kitted out with the same specs.
In short, a fully kitted out Acer Predator Triton 500 would be classed as a premium gaming laptop whereas an Acer Predator Helios 300 would make a suitable mid-high range gaming laptop alternative.
Acer gaming laptop FAQs
Are Acer laptops any good for gaming?
Acer offer a range of different laptops that are specifically targeted at gamers, and some of these are indeed excellent buys.
The long-running Acer Nitro series for instance regularly produces highly regarded budget/affordable gaming laptops that are popular among consumers each year. The Predator range also produces good quality medium to high-powered gaming laptops.
Which is the best gaming laptop in Acer's range?
There is no single 'best gaming laptop' in Acer's range: what is best for you depends on your subjective needs.
The most high-end premium range of Acer's gaming laptops are the Predator Triton series. The Predator Helios series are more affordable mid to upper-mid range gaming laptops with slightly cheaper build quality, but still can be equipped with powerful GPUs. The Acer Nitro series are the most affordable sub-range, but can still be equipped with medium power GPUs.
---
Other gaming laptop brand guides
In-depth laptop reviews
'Best of' brand guides
'Best of' price guides
Final Word
This has been our guide to the best Acer gaming laptop. We hope it has helped you make an informed choice about which model is right for you; if it turns out that it isn't an Acer, then see our various best gaming laptop guides for different price ranges under Custom Gaming PC > Gaming Laptop in the main site menu. Alternatively, check out our best gaming laptop page for our top picks across all brands and price ranges.
---