Best HP gaming laptop 2023 buyer's guide
The best HP gaming laptops 2023, including HP Omen, Victus & Pavilion gaming laptop
Updated: Jun 30, 2023 2:29 pm
01

A great value mid-range 16-inch HP gaming laptop with powerful hardware for the price

Editor's pick

HP Victus 16 (RTX 3060, 1440p, 165Hz)

02

A good value 17-inch HP gaming laptop, but the newer version may be worth waiting for

HP Omen 17t-ck000 (RTX 3070, 1080p, 144Hz)

03

HP Omen 16z-c000 (RTX 3070, 1440p, 165Hz)
This page will help you find the best HP gaming laptop for your specific needs and budget, ranging from the latest gen HP Omen down to the more budget-friendly HP Pavilion laptops. One advantage of HP laptops is that the HP store usually has great discounts and offers going on throughout the year, so make sure you check this out.
We will be basing all our selections below on various different criteria, including: price, FPS performance in games, the quality of the display, the range of additional features, build quality, etc. As new HP gaming laptops are released, we will update this page accordingly. If you're interested in looking at the best machines across all brands, check out our best gaming laptop page or one of our price-focused buyers' guides that you can find in the menu above.
Best HP gaming laptop: Our top picks
HP Victus 16 (RTX 3060, 1440p, 165Hz)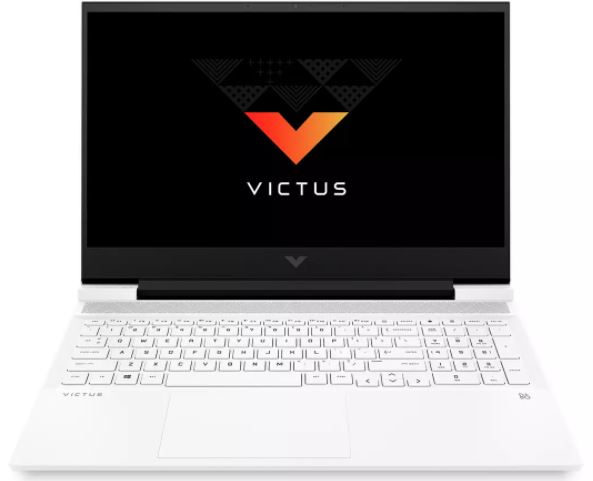 NVIDIA GeForce RTX 3060 (6GB) 90-95W
HP Omen 17t-ck000 (RTX 3070, 1080p, 144Hz)
HP Omen 16z-c000 (RTX 3070, 1440p, 165Hz)
NVIDIA GeForce RTX 3070 100W
HP Pavilion 16-a0097nr (1660 Ti, i5-10300H, 144Hz)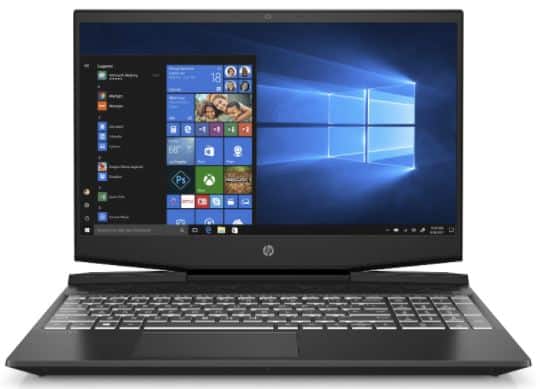 Nvidia GeForce GTX 1660 Ti
---
Best HP gaming laptop 2023: in-depth reviews
Editor's pick: A great value mid-range 16-inch HP gaming laptop with powerful hardware for the price
HP Victus 16 (RTX 3060, 1440p, 165Hz)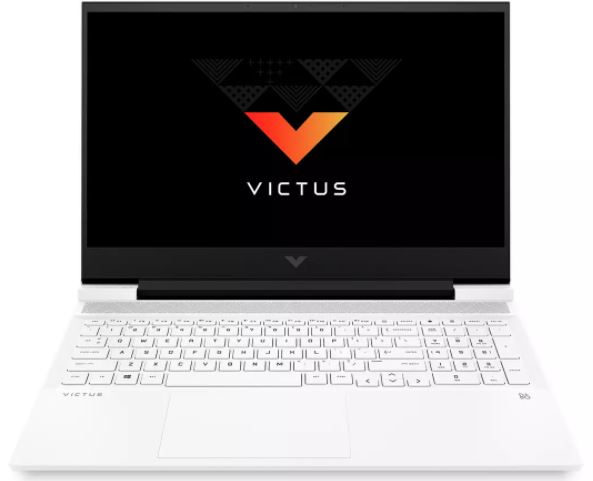 NVIDIA GeForce RTX 3060 (6GB) 90-95W
good value

1440p display

decent color replication

decent battery life

SD card slot
screen wobble

poor build quality
The HP Victus gaming laptop line is HP's latest range and aims to provide a cheaper alternative to their HP Omen range, and it offers great performance for the money. The main sacrifice made to get these laptops down to a cheaper price is build quality, with the lid of the Victus 16 in particular being very wobbly and bendable, although not enough to be a nuisance when gaming so in our opinion. The overall build is very plasticy and it's far from the most robust feeling laptop around. Still, this is an acceptable trade-off in our opinion, considering the powerful specs you get for the price – just make sure you treat it with care!
Having said this, the keyboard on the laptop is surprisingly good, feeling quite tactile and clicky for a membrane keyboard, although it does have a lot of flex due to the aforementioned build quality. The touchpad is decent enough though. The speakers on the high-end version we have picked here are also respectable for a gaming laptop, though cheaper versions of the HP Victus 16 reportedly come with lower-quality ones.
In terms of the core components then, the AMD Ryzen 7 5800H processor performs well, in both single and multi core scenarios, and has the added advantage of extending the laptop's battery life to levels above what the Intel versions can manage: expect at least 7 hours during general usage (web browsing, word processing, and the odd YouTube video) with the most advanced display option, which is decent if not amazing. The 1080p displays reportedly can last up to 10-11 hours, which is very impressive.
The Nvidia GeForce RTX 3060 graphics card has a max TGP of 95W during gaming, which isn't the most powerful out there, but you can still expect it to follow closely behind other RTX 3060 laptops such as the HP Omen 15z in terms of FPS performance. At the end of the day, a few lost FPS is worth the savings you get with the Victus in our opinion.
Color replication on the display is actually surprisingly good, hitting around 99% sRGB, making it suitable for color work in this space. Peak brightness is nice and high, contrast ratio is decent and from a subjective perspective images on it look great in 1440p. Be aware though that cheaper display versions of the same machine have pretty poor performance in all these areas. HP claim the laptop is capable of 3ms response time on the QHD version, and though we haven't tested it, you can expect the real response time to be around 4-6ms, which is still very good for this price and for competitive gaming. The 165Hz refresh rate is also great for gaming at this price and resolution, and the bigger screen size is a nice sweet spot between 15″ and 17″ models, giving enough display real estate to properly immerse yourself in games, whilst still being fairly portable.
A good value 17-inch HP gaming laptop, but the newer version may be worth waiting for
HP Omen 17t-ck000 (RTX 3070, 1080p, 144Hz)
powerful core components for the price

17-inch display

decent color replication
screen response time is lacking
This 17-inch HP Omen gaming laptop is the best one currently available from online retailers at the time of writing. It has a 17.3" 1080p 144Hz display with a stated grey-to-grey response time of 7ms, which you can expect to come in at at least 10ms during actual testing. The response time is less than ideal, though the newer upcoming 2021 iteration has a manufacturer-reported response time of 3ms, as well as a slightly higher 165Hz refresh rate. Either 144Hz or 165Hz are fine for most users, though if you're a competitive gamer then you may wish for a bit more.
The color replication on the display is around 99% sRGB, as with most of the highest spec Omen displays, so you can do some light color work on here too outside of gaming. As with the other Omen and Victus on this list, both the membrane keyboard and trackpad are decent. The speakers are merely adequate but the overall build quality of the machine is solid.
The performance of the core components on this laptop are pretty good for the price, with the Intel Core i7-11800H CPU and Nvidia RTX 3070 GPU combo churning out an FPS performance in games which is as good as more expensive laptops from other brands with similar core specs. You can't complain about having the extra screen size that 17" brings for this price either, if you favor immersion over portability.
Ultimately, this is a great value laptop, the only thing that might put consumers off buying the specifications listed here is if they wish to wait for the 1440p/QHD 165z version with superior response time, and of course the crisp display that the higher resolution brings, which also comes with the optional extra of a mechanical keyboard, though we don't know exactly how this will be priced.
If you want to further improve the cooling and reduce thermal throttling on this beast, have a read of our best laptop cooling pad and best laptop stand guides for some affordable solutions.
A 165Hz 1440p 16 inch HP gaming laptop with AMD Ryzen CPU
HP Omen 16z-c000 (RTX 3070, 1440p, 165Hz)
NVIDIA GeForce RTX 3070 100W
AMD Ryzen 9 5900HX CPU

1440p display

good battery life

SD card slot

decent color replication

good build quality

16-inch display
expensive compared to the competition
This HP Omen 16z-c000 comes with the top-of-the-line AMD Ryzen 9 5900HX CPU and Nvidia's GeForce RTX 3070 with 100W TGP. The RTX 3070 in question performs decently, but it's not the best around either, which is pretty much our view on this laptop overall.
This Omen has pretty much the same screen as the newer 16-inch Victus does at the highest specs, coming in at 1440p resolution with a 165Hz refresh rate and the same, claimed 3ms grey-to-grey response time (manufacturers claims are never to be believed in this area, so expect more like a 4-6ms, which is still respectable). Unfortunately for competitive gamers, this is the highest refresh rate and response time display you'll be able to get for the HP Omen, so if you're looking for a machine to give you that extra edge in fast-paced shooters, we'd advise looking for a 1080p model from a different brand with a higher refresh rate, like the ASUS ROG Strix G15 Advantage Edition.
The color replication, peak brightness, and contrast ratio of the IPS screen are all solid, and you could do some light color workflows on it within the sRGB space no problem, as it covers around 99% of the sRGB gamut.
Build quality is undoubtedly better than the HP Victus, with the lid feeling much sturdier and the whole chassis having a more quality feel. The keyboard and touchpad are equally as good.
We've gone with the 1TB SSD and 16GB RAM version of this 1440p HP Omen, and we don't recommend you go any lower than this when you're kitting it out, however with this specced version you will be paying a pretty penny at full price, and we'd only recommend buying this laptop if you can get if for a few hundred dollars off. Even then, if you don't mind sacrificing the Ray-Tracing potential of the Nvidia GPU, the all-AMD 1440p ASUS G15 Advantage Edition will give you better FPS performance in games for less money.
A HP gaming laptop with GTX 1660 Ti graphics card
The best HP Pavilion gaming laptop for those on a budget
HP Pavilion 16-a0097nr (1660 Ti, i5-10300H, 144Hz)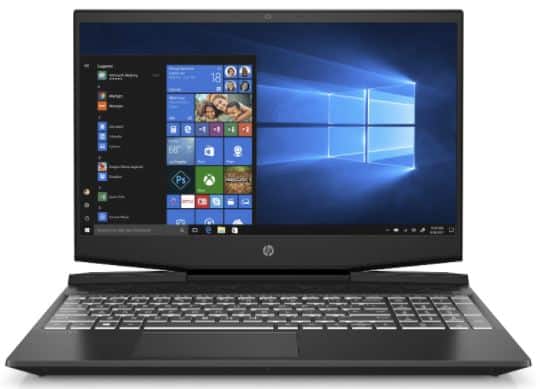 Nvidia GeForce GTX 1660 Ti
good color replication

good peak brightness and contrast ratio

1080p webcam

16-inch display
poor build quality

not great value at full price
Our final selection is the 144Hz display version of the 16" HP Pavilion gaming laptop, which comes equipped with a Nvidia GeForce GTX 1660 Ti graphics card and an Intel Core i7-10750H CPU. The HP Pavilion Gaming Laptop 16-a0097nr as it is known, will be able to play older, less demanding games well enough, though if you're looking to play the latest AAA titles you'll need to turn the graphical settings right down. You can expect it to perform roughly equivalent to a weaker Nvidia RTX 2060 laptop in most games.
Do make sure if you're buying this laptop off HP's website you select the version with the correct display, as other HP Pavilion iterations only come with the standard 60Hz screens that are unsuitable for gaming. The real response time of the screen comes in around 8ms, which is respectable for a budget laptop, if not especially great. Color replication on the display is surprisingly good for the price, as is the peak brightness and contrast ratio.
Build quality on all HP Pavilion gaming laptops doesn't match up to the likes of the HP Omen, and this is just the reality of paying the lower price. The speakers on this model aren't great, but no worse than average at this price. The keyboard and trackpad are about average again for this price point, though lag behind the more quality examples in the other selections on this page. Battery life is respectable, but the battery recharge time is particularly good, being able to recharge up to 50% of its battery life in only 30 minutes.
Ultimately the main issue with this laptop is that if you're going for a budget choice, you can get more powerful components for the same price as this from other brands. We'd advise only forking out for this HP Pavilion gaming laptop if you can pick one up at a substantially reduced price.
READ NOW: Best laptop under 400 USD (non-gaming)
---
Things to consider when buying an HP gaming laptop
If you want to know what to consider when looking for a gaming laptop in general, regardless of subcategory, have a quick look at this same section on our best gaming laptop page. The below points will be a quick summary of what you need to be aware of when shopping for an HP gaming laptop specifically.
Which is the best HP gaming laptop? HP Omen vs HP Victus vs HP Pavilion
These three product ranges from HP cover all the laptop options they produce that are worthy of the title 'gaming laptop'. The most premium HP range are the HP Omen gaming laptops, which have the best build quality, and usually the most powerful hardware, ranging in price from the lower-middle range to the high-end, although they do not quite reach the levels of some other brands. The HP Victus gaming laptops are a new range from HP which essentially offer similar performance quality to the HP Omen in games, but sacrifice in build quality and other areas to make this more affordable. Finally, the HP Pavilion gaming laptops are real budget offerings, typically coming equipped with older generation CPU and GPU hardware, though there are some which have entry-level Nvidia 30-series GPUs and the like.
High-end HP gaming laptops
As discussed, the HP range includes a variety of sub-brands such as HP Omen, HP Victus, and HP Pavilion gaming laptops. Of these, the HP Omen laptop options represent the most premium option that HP produce, with the maximum performance in FPS terms, at least the most highly kitted-out versions of these machines. Generally though, even the Omen isn't up there with the most high-end, most powerful gaming laptops on the market. There are no Nvidia GeForce RTX 3080 laptops in the HP Omen range for instance. So far, HP have made the decision to target the area of the market where the majority of consumers lie – between the budget to upper mid-range price bracket. So if you're looking for a ridiculously powerful gaming laptop that can play all the most demanding games at maximum settings, we'd consider an alternative brand and have a read of our best gaming laptop under $2,500 or best gaming laptop under $2,000 pages.
Where to buy HP gaming laptops?
Whatever region of the world you're in, the HP website should be your first port of call when shopping for a HP gaming laptop. The HP website offers the widest number of different configurations of each make and model and lets you add and remove features to them before you buy, enabling you to customize the specs of your machine to the greatest level possible. The HP store also often has various deals running throughout the year (though these are best between November and the end of the year) which are well worth checking out.
If you're in the US, we'd recommend looking on Best Buy next, which has recently had some great deals on HP laptops. The level of customization and breadth of selection isn't as good as on the HP site, but you might find a better deal here. Following these two, all the usual online retailers such as Amazon and Newegg are worth a look.
16-inch HP gaming laptops
We're increasingly seeing gaming laptops from several different brands opt for screen sizes of 16.1″ or thereabouts, which lands between the more common sizes of 15.6″ and 17.3″. This middle size is a great option between the larger 17-inch machines, which many find to be a bit too large to be easily portable, and the 15-inch laptops that are easier to carry around but don't quite have the immersion that the larger screen brings. Many of the machines listed here, even the older tech HP Pavilion gaming laptop, come with this 16.1″ size, and we're all in favor of it.
HP gaming laptop price
HP gaming laptops will cross a whole range of budgets and price points, depending on the specific model of the CPU. You may see some in our best gaming laptops under $500 guide at the real budget end, in our best gaming laptop under $800 page at the upper-end of the budget spectrum, or equally when you get to the upper end of 'mid-range gaming laptops' ending around the 1,500 USD mark (check out our best gaming laptop under $1,500 guide to see if they've made the cut).
---
Best HP gaming laptop 2023 : Final Word
This has been our guide to find the best HP gaming laptop for your needs. We hope that it's been some use to you in helping you pick the right HP Omen, HP Victus, or HP Pavilion according to your budget and user requirements. Please do check out our other guides on the best gaming laptops currently on the market, from different brands and covering different budgets, to make sure you consider all options. You can find these listed in the menu at the top of this page in the mega menu.
The best HP gaming laptop FAQs
Is a HP gaming laptop better than a HP gaming desktop?
Whether an HP gaming laptop is better than an HP gaming desktop PC depends on what you prioritize. As with all gaming laptops, the advantage of the versatility a laptop brings to working and gaming on the move compared to a bulky desktop does come with its downsides.
The maximum performance you will get in games in a HP laptop just will not compare to a desktop PC, even if it ostensibly has the same specs. This is because laptop CPUs and GPUs are underpowered compared to their desktop counterparts, as a result of the cooling and voltage restrictions imposed by the smaller laptop chassis.
On top of this, you will pay substantially more for the same specs in a gaming laptop than you will in a desktop. HP PC builds offer good value affordable options if your priority is FPS performance per $ spent over portability.
Is HP a good gaming company?
HP Inc. is the successor to the long-lasting US technology company Hewlett-Packard, first founded back in 1935. They are one of the global leaders in personal computers, laptops, servers, and networking technology, and have a historic market share of 15-25% of the global PC market which they continue to maintain into 2022. Primarily HP is focused on non-gaming products, for general use and also supplying the business community, however, they have several lines of low-mid tier gaming laptops which offer decent value options across various SKUs.
---