Best Razer laptop 2023
Let's find you the best Razer gaming laptop and/or workstation laptop for your needs
Updated: Jun 30, 2023 2:27 pm
01

Razer Blade 18 (i9-13950HX)

02

Razer Blade 16 (4K/FHD, i9-13950HX, RTX 4090)

03

Razer Blade 14 (RTX 3080 Ti, 1440p, 165Hz)
The best Razer laptop models are some of the thinnest and most well-built Windows laptops available, with the Razer gaming laptop line being one of the most iconic premium offerings on the market. We'll be taking a closer look at some of the best Razer laptops on the market, to help you decide whether or not they're worth your hard-earned cash.
Best Razer laptop 2023: products at a glance
Razer Blade 18 (i9-13950HX)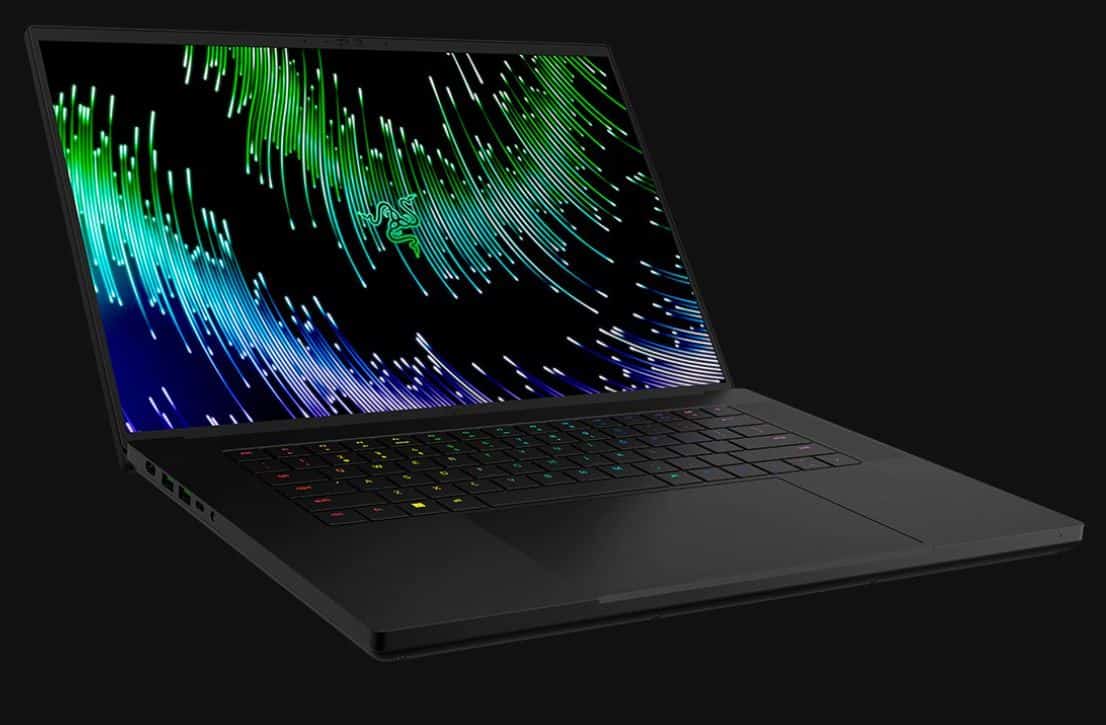 NVIDIA GeForce RTX 4080 / RTX 4090
Razer Blade 16 (4K/FHD, i9-13950HX, RTX 4090)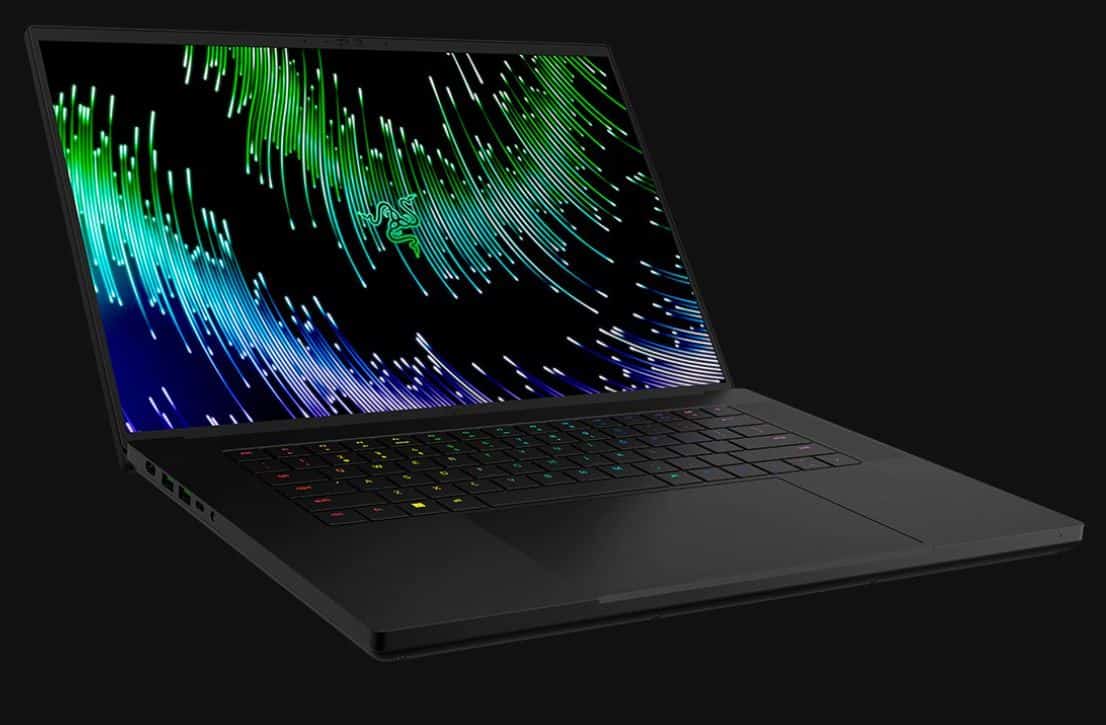 120Hz / 240Hz (switches between both)
4K / FHD (switches between both)
Razer Blade 14 (RTX 3080 Ti, 1440p, 165Hz)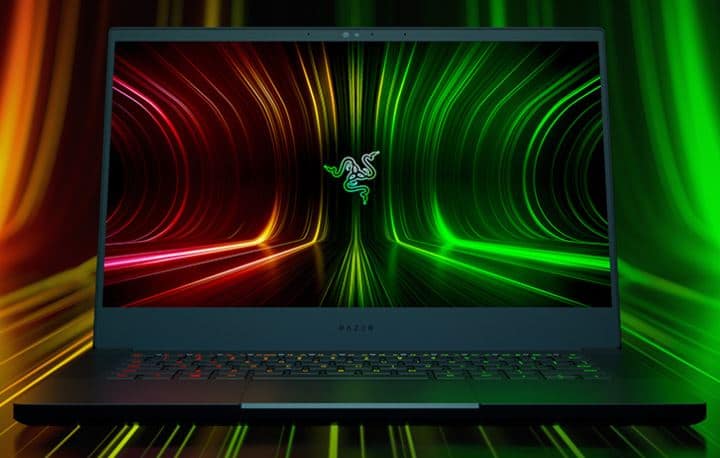 NVIDIA GeForce RTX 3080 Ti (16GB)
Razer Blade 15 Studio Edition
NVIDIA® Quadro RTX™ 5000 Studio Edition (16GB GDDR6 VRAM)
17.8 mm x 235 mm x 355 mm
---
Best Razer laptop 2023: reviews
Overall best Razer laptop in 2023
The best Razer gaming laptop overall
Razer Blade 18 (i9-13950HX)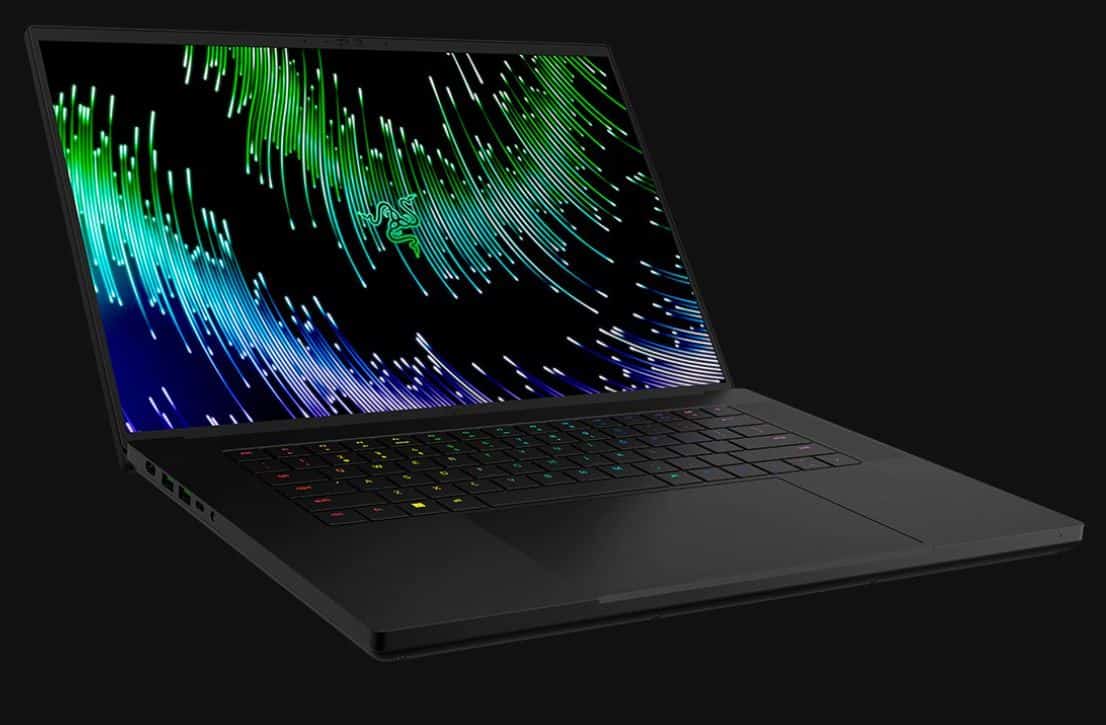 NVIDIA GeForce RTX 4080 / RTX 4090
The Razer Blade 18 released in 2023 comes with options for Nvidia GeForce RTX 4060, RTX 4070, RTX 4080, and RTX 4090 GPUs, all variants comping with the most powerful Intel CPU on the market: the Core i9-13980HX. We'd recommend the RTX 4080 or (if you're feeling particularly fruity) the RTX 4090 versions.
For many gamers, and 18-inch laptop might be a bit too big to be of consideration – it certainly limits the portability of the device. However, in classic Razer style, the slimline design of the Razer Blade 18 makes it the most portable 18″ gaming laptop you'll find. As a result, it's a more viable choice than the desktop replacement behemoths of other brands, and you get the benefit of maximum immersion on the sublime, lush screen.
The 1600p display looks great, with a great peak brightness of 500 nits, a 240Hz maximum refresh rate that's ideal for both fast-paced online shooters and single player titles, and a 3ms average grey-to-grey response time that's good enough to completely eliminate ghosting at 240Hz – very impressive indeed, and a boon to those who take their competitive shooters seriously. The display also comes with 100% sRGB gamut coverage as well as around 98% DCI-P3 coverage, making it ideal for color-based creative workflows in either of these two spaces.
The roughly five hour battery life you'll get on the RTX 4080 version (with all battery saving settings enabled and the screen on 60Hz) is actually pretty good for a laptop with a screen this size and with these powerful core components, and an improvement over previous generations. The port selection of 2x USB-C (one of them Thunderbolt 4 and Display Port 1.4 with power delivery, the other DisplayPort) and 3x USB-A ports, plus UHS-II SD Card Reader is good and the 32GB/64GB 5600MHz RAM, 1TB/2TB SSD options are ample for anyone's needs.
All-in-all, the biggest downside of this laptop is the eye-watering price (no surprise for a Razer machine), but if you can afford it, you'll have one of the most sublimely designed gaming laptops ever created!
Best 4K Razer laptop 2023
The best Razer laptop for competitive gaming and maximising FPS
Razer Blade 16 (240Hz QHD+, i9-13950HX)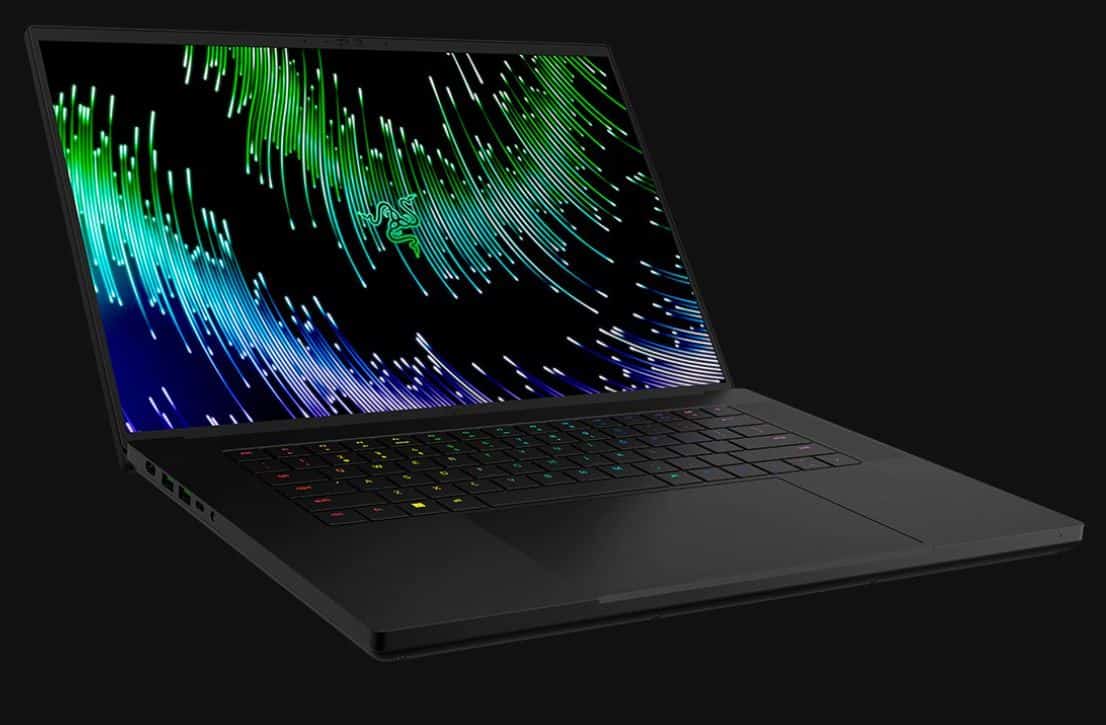 ridiculously powerful GPU & very powerful CPU

very bright mini-LED screen

great color replication

240Hz FHD/1200p mode for competitive gaming

great build quality and aesthetic

good voltage & fan customisation in onboard software
very expensive

240Hz FHD mode is less sharp and requires reboot to switch on

noisy fans when presets set to high

battery life could be better (though could be worse)
This particular Razer Blade 16 is a very unique offering: coming with a display that can switch between a fast 240Hz 1080p screen (ideal for competitive gaming), and a 120Hz 4K display – perfect for creative use (working with native 4K images or video) or for singe player gaming. On top of this the mini-LED display panel is exceptionally bright (600nits on SDR and 900nits on HDR), and HDR capable – further increasing its usefulness as a creative machine. When gaming, the 5.5ms average grey-to-grey response time for the 4K setting will almost eliminate ghosting at the 120Hz refresh rate, as will the 4.2ms grey-to-grey for the 240Hz FHD setting.
Of course gaming at this resolution requires a very powerful GPU, and none are more powerful than the RTX 4090 – basically the first laptop graphics card to make 4K gaming at a 100 FPS or better a feasible reality. Although less powerful graphics card options are available, this is the one we'd recommend for a 4K/UHD machine. The hugely powerful flagship Intel Core i9-13950HX processor also helps, even if it is prone to a bit of thermal throttling (not an issue with this laptop in particular, but a 13th gen CPU problem in general).
On the 240Hz FHD setting, you can get between 5 and 6 hours of battery life out of this beast, which is pretty damn good for a machine of this power. Again the main drawback is just the very large price tag.
Best Razer laptop for portability
The best portable Razer gaming laptop
Razer Blade 14 (RTX 3080 Ti, 1440p, 165Hz)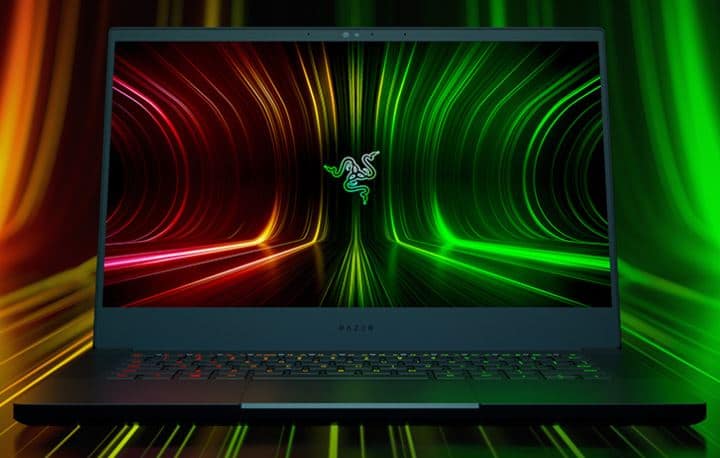 NVIDIA GeForce RTX 3080 Ti (16GB)
AMD Ryzen 9 6900HX is a great CPU

RTX 3080 Ti in a compact gaming laptop

MUX Switch

Great color replication

Great contrast and brightness

Great build quality

Thin and lightweight

FreeSync

Good response times for a smaller laptop
Maximum 16GB soldered RAM

Expensive

Relatively Low TGP RTX 3080 Ti
Unless portability is your number one priority we wouldn't normally suggest going with a 14-inch gaming laptop, due to the loss of immersion in games most people will feel as a result of the smaller display. Still, if you have your heart set on a gaming machine of this size, the Razer Blade 14 is the most powerful option out there, and an impressive piece of engineering.
This particular Razer Blade 14 comes with options for a RTX 3080 Ti graphics card (the most powerful laptop graphics card of the previous generation), plus a very tasty AMD Ryzen 9 6900HX processor. This particular RTX 3080 Ti does admittedly have a lower TGP due to the constraints imposed by the small size of the machine, but it does come with the full amount of 16GB VRAM (compared to the previous RTX 3080 iteration), which should really help on those higher graphical settings and resolutions. The inclusion of a MUX Switch is another improvement over the previous gen, which also really gives it an extra performance boost in games. This is still, by far, the most powerful 14-inch gaming laptop that money can buy.
Besides gaming, the Ryzen 6900HX processor really lets it hit hard in multi-core heavy workstation tasks, such as rendering and visual editing. The classic high quality display further improves its usefulness as a dual-use workstation machine: with the previous version having an excellent 100% sRGB gamut coverage and roughly 83% AdobeRGB coverage, we expect to see much the same in real world testing (Razer claim 'up to' 100% DCI-P3). Contrast and peak brightness are also good, enabling you to see details in the blacks and use the laptop in well-lit areas without a problem.
The RTX 3080 Ti option (only) has a 1440p/QHD panel with 165Hz maximum refresh rate and FreeSync Premium. The build quality of this miniature machine is fantastic; though with its all-metal chassis it's not the lightest out there, given its slimline dimensions it is still easily portable. Taking everything into account, this is a great RTX 3080 Ti laptop.
An older gen OLED Razer laptop for creatives
The best studio Razer laptop
Razer Blade 15 Studio Edition
NVIDIA® Quadro RTX™ 5000 Studio Edition (16GB GDDR6 VRAM)
17.8 mm x 235 mm x 355 mm
Stunning display

Fantatsic multi-tasking performance levels

One of the most powerful GPUs for image rendering and creative work tasks

High-end build quality

Very nice aesthetics
Moving away from just gaming, Razer are now catering towards the creative types out there – bringing high-performance rendering hardware and stunning displays to the table. The Razer Blade 15 studio edition is their answer to creatives' cries.
We've yet to see a 2021 release of the studio edition laptop with a Comet Lake CPU, but the 2020 release still packs a mighty punch. For the purposes of this article, we've opted for the 15.3″ 4K OLED touch screen display. That being said, it's definitely worth noting that you can get studio editions of the 13 and 17-inch models if that is more to your taste. That out of the way, at the heart of the 15.6″ version of this powerhouse laptop sits one of Intel's latest CPUs, their 10th gen i7-10875H. As mentioned above, this is the very same found in the Blade Pro, offering up superb levels of performance whether your gaming or performing highly-taxing workflow style tasks. It offers up 8 cores and 16 threads, clocked at 2.3GHz base and 5.10GHz boost. These stats make this one of the most powerful laptop CPUs in today's market – not to be sniffed at.
Alongside the hugely powerful CPU lies the Quadro RTX 5000 studio edition GPU – a 16GB GDDR6 VRAM monster than is fully equipped to tackle almost any rendering task you throw at it. Whilst this particular GPU isn't great value for money when referencing gaming, it more than makes up for it in workload scenarios. Accompanied by 32GB of high-performance RAM, this laptop is more than equipped to handle the most intense of multi-tasking scenarios. That means rendering, streaming, browsing, and gaming are all possible on this machine.
One of the most impressive improvements this laptop has to offer is its display. This thing is stunning. The 15.6″ OLED 4K touch screen not only provides a 60Hz refresh rate, but also offers a 100% coverage of the DCI-P3 color spectrum, and HDR400 brightness to boot. With touch screen capabilities, this laptop also provides tablet-like functionality to your workflows.
With a tonne of other features, this laptop is right up there when discussing creative type laptops. Not only is this thing stunning aesthetically, but it also offers all the power you could ever want from a workstation laptop.
---
The history of the Razer brand
Like many peripheral brands, Razer started its existence with humble beginnings – offering up high-end gaming accessories to those looking to take their gaming to the next level. However, that didn't last long. The brand saw a huge increase in consumer popularity after releasing a number of best-selling peripherals – including the Deathadder (V2), Basilisk, Kraken, and Hunstman to name but a few – and quickly became a household name when discussing gaming peripherals.
Fast forward 10 years and Razer is now dipping its toes in all kinds of gaming equipment, ranging from laptops to high-end displays, and pretty much everything in between.
Things to consider when buying a Razer laptop
With every hardware purchase comes a plethora of specification considerations that will impact the overall experience that hardware provides. Below, we've outlined what we consider to be the most important factors to consider when buying a gaming laptop.
Performance Power
Whenever we discuss gaming, whether it's a GPU or a high-end gaming PC, performance power is always high on the list of priorities. Performance power in a gaming laptop is a combination of several factors, including the power of your CPU, GPU, and RAM. As a gamer, you need to understand how each impacts the overall gaming experience in order to choose the right laptop for your needs.
CPU: The CPU (or central processing unit) is the brain inside your computer which performs the fundamental instructions of a computer program. The CPU affects everything from gaming performance to browsing the web, so choosing the right one for your needs is critical. As a general rule of thumb, gamers should be looking for a minimum of 4 cores/4 threads and a base clock speed of 3GHz. Whilst many CPUs exceed this performance power, we feel this is the base you should look for when gaming is a priority.
GPU: The GPU is the graphics processing unit and does pretty much what it says on the tin – renders graphics. The GPU is the number one factor when referencing in-game FPS, so choosing the right one is absolutely critical. For modern-day gaming, we recommend choosing a laptop that has at least an RX 570 or higher. This will ensure half decent frame rates in most gaming titles.
Here's our complete GPU hierarchy guide.
RAM: Lastly, we have the RAM. RAM is random access memory, information that can be accessed at any time, and in any order. RAM will affect how quickly your machine runs multi-tasking type scenarios, so you should familiarize yourself with speed and capacity before making your next purchase.
RAM Speed Guide
How Much RAM Do You Need For Gaming
Storage
Like all computers, gaming laptops need the correct storage in order to function properly and efficiently. Getting to know the differences between storage could impact your experience massively – and in more than one way.
First, the capacity. The capacity of your storage device will ultimately dictate how many programs and games you can store on your laptop. So, choosing one that has 128GB of storage probably isn't going to be right for your gaming needs – especially when you consider COD: Modern Warefare is over 100GB!
Next is speed. There are two main types of storage solutions; HDD and SSD. The latter is the newer of the two and is much quicker in terms of read and write capabilities. Choosing an SSD over an HDD may be more expensive, but you are increasing boot time, game loading times, and browsing speeds by opting for it.
Panel Technology
Panel technology refers to the display of your laptop. Most people probably shrug at the idea of learning about panel technologies, believing it won't really affect their overall experience – oh, how wrong they would be.
Each display is designed using a specific panel technology, each of which has its own unique set of pros and cons which cater them to certain scenarios – gaming for instance. The three main types of panels are; IPS, TN, and VA. Below, is a general idea of what each brings to the table:
As you can see, each of the panel types is quite different. For example, if you want highly accurate colors, the IPS panel is the best to go for. Alternatively, if competitive gaming is more your thing, TN is probably the go-to. Understand what each of the panel technologies can offer and you might end up saving a few bucks in the process.
Size & Weight
Size and weight are fairly rudimentary factors when it comes to purchasing laptops. That being said, no one wants to carry a huge bulky laptop around with them, do they?
Unfortunately, gaming laptops are still fairly weighty, so getting a slimline model isn't the easiest – especially if you're on a budget. That being said, the gaming monitor is extremely versatile and comes in a bunch of sizes to suit your requirements. Ultimately, finding the right size and weight for your needs comes down to personal preference. Thankfully, there are a bunch to choose from.
Why Choose A Razer Gaming Laptop?
Let's be honest, choosing a gaming laptop is never easy. You're parting with a large sum of money. Choosing the right one for your needs is absolutely essential. That being said, there are many benefits to buying a Razer gaming laptop – here are the best.
Customization
Hardware customization is one of the biggest benefits you get when going direct through Razer. Users have the opportunity to customize the GPU, CPU, display, and aesthetic finish of the laptop they're purchasing – a luxury most other retailers do not offer.
Latest Technology
Razer has taken the initiative with the latest technology available, trying to implement it in as many of their products as possible. The same goes for their impressive range of laptops. Whilst Razer's laptops may be on the pricey side, the high-performance hardware inside justifies the price.
Ultra-thin Design
Like we mentioned earlier, it's not always easy to find a gaming laptop that offers both style and performance. Having said that, Razer seems to have cracked the code with several of their high-end offerings. With an ultra-thin design that would almost put Apple to shame, their laptops not only perform great but look great too.
How We Choose
Whether we're reviewing new monitors or the best GPU on the market, choosing the right hardware can always be a tricky task.
It requires hours of product research, performance benchmarking, and reviewing user feedback to get anywhere close to a definitive conclusion on what to recommend.
If you aren't tech-savvy and struggle to put the time aside to go through the above requirements, you may end up purchasing a gaming laptop that simply isn't right for you.
Fear not though, friends! Here at WePC, we like to take the stress of research away, and transform the whole process into an easy-to-follow, complete buyers guide. That's right, our team of PC enthusiasts has done all the hard work for you!
Best Razer laptop deals
Razer laptop deals are live! Get huge savings on Razer gaming laptops on Best Buy, HP, Amazon, or the Razer Store in 2023, including:
Razer Blade 14 – 14″ QHD 165Hz, AMD Ryzen 9 6900HX, RTX 3070 Ti, 16GB Memory, 1TB SSD – was $2,599.99 now $1,999.99
Razer Blade 14 (pink quartz) – 14″ QHD 165Hz, Ryzen 9 6900HX, RTX 3070 Ti, 16GB DDR5 RAM, 1TB PCIe SSD – was $2,599.99 now $2,099.99
---
Best Razer laptop FAQs
Razer laptops typically excel in terms of build quality and aesthetics, slimline portability, and excellent bright and colorful displays.
They're not always quite the most powerful compared to other gaming laptops with the same core specs, and are often quite expensive, but for your money you get a high-end premium product.
Is the Razer Blade 14 or 15 better?
The Razer Blade 15 is the better option if you prioritize power in your gaming/creative applications over portability; the larger display also improves immersion in games and gives you more screen real estate when working, and you get slightly more ports/sockets.
The Razer Blade 14 is however much lighter, thinner and altogether more portable, so is the better option when working/gaming on the move.
Best Razer Laptop : Final Word
This has been our comprehensive breakdown of the best Razer laptop models in 2023. Hopefully, this article has allowed you to make a more informed decision on your next Razer gaming laptop or Razer workstation laptop purchase. Do be sure to check out our other gaming laptop brand guides in the mega menu, and let us know which Razer laptop you'd most likely choose by leaving us a message in the comments below.
---