Best RTX 3080 laptop buyer's guide
The best RTX 3080 laptops in 2023, looking across every brand
Updated: Jul 13, 2023 1:43 pm
01

The best 17-inch RTX 3080 laptop for gaming, either at 4K or 1440p

ASUS Zephyrus S17 (QHD, 165Hz, RTX 3080)

02

The best 15-inch RTX 3080 laptop for gaming, either at 1440p or 1080p

XMG Neo 15 E21 / Eluktronics MECH-15 G3 (5900HX)

03

The best, and only, 14-inch RTX 3080 laptop

Razer Blade 14 AMD Gaming Laptop (RTX 3080, 1440p, 165Hz)
The best RTX 3080 laptops were, until recently, the most powerful options for mobile gaming. Although this title now goes to RTX 3080 Ti machines, the RTX 3080 gaming laptop will still be the dominant force in high-end gaming for a while. Indeed, depending on the TGP of the graphics cards in question, the more powerful of the RTX 3080 laptops listed on this page may still outperform some of the entry-level Ti options.
Below we will go through what we consider to be the best laptops currently available that come with the Nvidia GeForce RTX 3080 graphics card, categorized by use case and budget to give you different options based on your needs.
Today's best gaming laptop deals
The below selections represent the best RTX 3080 laptops available, however you can sometimes do even better by taking advantage of deals and offers that allow you to get more powerful devices for the same amount of money. Take a look at the best gaming laptop deals today on Amazon and see what you can snap up!
Best RTX 3080 laptop: top picks
ASUS Zephyrus S17 (QHD, 165Hz, RTX 3080)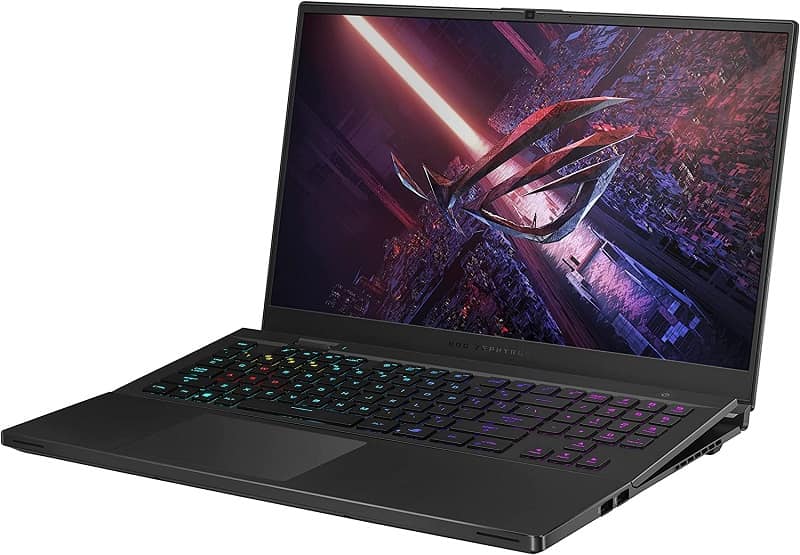 Nvidia GeForce RTX 3080 (100-140W)
XMG Neo 15 E21 / Eluktronics MECH-15 G3 (5900HX)
Nvidia RTX 3070 (125-140W) / 3080 (150-165W)
Razer Blade 14 AMD Gaming Laptop (RTX 3080, 1440p, 165Hz)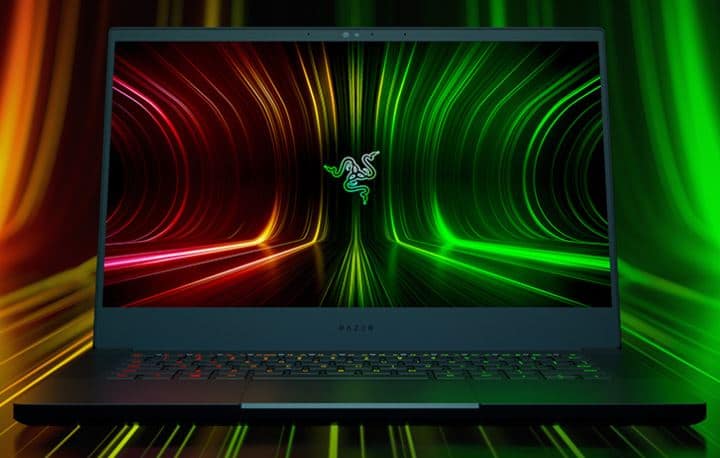 NVIDIA GeForce RTX 3080 (8GB) 90-100W
Alienware X17 (360Hz, RTX 3080)
Best RTX 3080 laptop: reviews
The best 17-inch RTX 3080 laptop for gaming, either at 4K or 1440p
Editor's Pick
ASUS Zephyrus S17 (QHD, 165Hz, RTX 3080)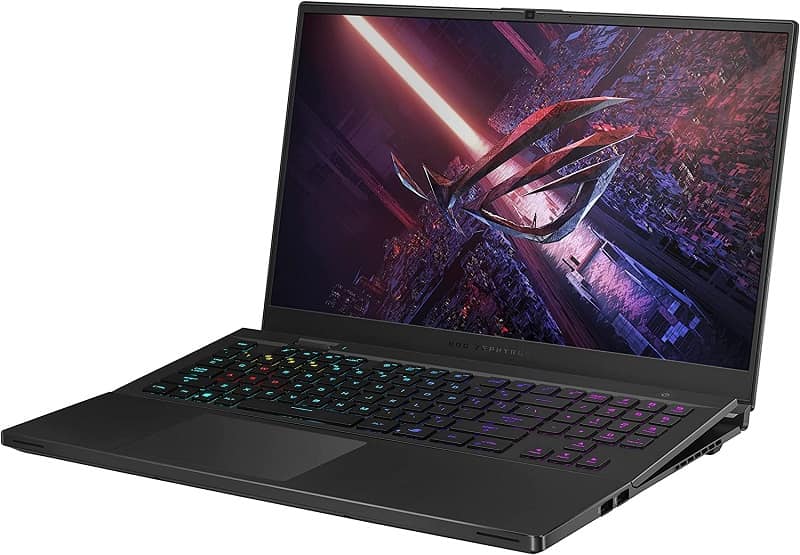 Nvidia GeForce RTX 3080 (100-140W)
great FPS performance in games

superb content rendering performance

excellent response time

MUX Switch for QHD version

G-Sync for 1440p option

good peak brightness & contrast

nice optomechanical keyboard & trackpad

raised keyboard improves cooling

decent battery life

slimline and portable for such a powerful laptop

good software with detailed fan controls
expensive

a higher refresh rate option would have been preferable

No G-Sync or FreeSync for 4K version

webcam and microphone could be better
17-inch displays are ideal in our opinion for maximizing immersion in your games, with a large enough size to actually appreciate resolutions above 1080p. The ASUS Zephyrus S17 is the best 17-inch RTX 3080 gaming laptop we've seen on a pure FPS basis, thanks in the main due to its high 100-140W TGP. Combined with the top-of-the-line 11th gen Intel Core i9-11900K CPU, it makes mincemeat of even the most demanding games on the highest settings. The welcome inclusion of a MUX Switch in the 1440p variant also gives a substantial additional boost in FPS performance, though sadly you don't get this with the 4K option.
If you're a hardcore competitive gamer, looking to squeeze out as many FPS as possible, you may find the 165Hz cap on the 1440p/QHD version somewhat restrictive, and we would admittedly like to have seen a higher refresh rate option on a 1080p resolution. Nevertheless, for the majority of gamers who want to play their shooters and other games on the highest graphical settings, 165Hz is definitely sufficient. Regarding the 120Hz 4K option, you won't find a higher refresh rate on a laptop with this resolution at the time of writing, so no complaints there.
Both resolution displays have a real grey-to-grey response time of around 4.8ms as long as screen Overdrive is enabled. At the refresh rate of both display options, you won't be able to detect any ghosting at all with a response time this quick. The 1440p option also comes with G-Sync, which again is sadly missing from the 4K model.
The color gamut of the 1440p display stretches to around 99% sRGB, 85% Adobe RGB, and 94% DCI-P3; making it suitable for color-accurate work in the sRGB space, possibly also the DCI-P3 space at a push. You can expect the 4K version to be at least as good. The peak brightness and contrast are both quite good as well, leading to an overall image quality that is great to game on.
Despite the size of its display and the power of its core components, the ASUS Zephyrus S17 is surprisingly light, totaling 6.21lb / 2.82kg, though this is excluding the power brick, which is itself quite heavy. The 720p webcam and microphone are nothing to write home about: about average for a gaming laptop, but the mechanical like keyboard and trackpad are definitely of a high standard, both feeling responsive. The keyboard is of a fairly unique design which can be raised up to a slight angle – improving typing position and also the airflow of the laptop, which does seem to help somewhat in minimizing thermal throttling.
Battery life is about middling for an RTX 3080 laptop: expect around 5 hours of non-strenuous, non-gaming use. The onboard software the laptop comes with is great, however, giving you lots of control over the fan speed in particular. All things considered, you'll be hard-pressed to find a better gaming laptop than the ASUS Zephyrus S17.
If you want to further improve the cooling and reduce thermal throttling on this beast, have a read of our best laptop cooling pad and best laptop stand guides for some affordable solutions.
The best 15-inch RTX 3080 laptop for gaming, either at 1440p or 1080p
XMG Neo 15 E21 / Eluktronics MECH-15 G3 (5900HX)
Nvidia RTX 3070 (125-140W) / 3080 (150-165W)
High TGP RTX 3070 / 3080 GPU

Powerful AMD Ryzen 9 5900HX CPU

MUX Switch

Superb FPS performance in-game

Good color replication, contrast & brightness

Good Value

Great optomechanical keyboard & trackpad

Superb onboard software

SD card reader

Fairly light
No G-Sync

Speakers & speaker positioning could be better

Webcam & mic could be better

Bland aesthetic
The Eluktronics MECH-15 G3 Ultra or XMG Neo 15 are both very powerful RTX 3080 laptops, and the best we've ever tested in terms of in-game FPS performance. The 150-165W Nvidia GeForce RTX 3080 is the highest-powered option you'll find in a gaming laptop, and the AMD Ryzen 9 5900HX CPU was, until recently, the most powerful processor offered by the red team, for both gaming and workstation performance. Intel options are also available for a slight boost in gaming performance at the expense of worse battery life and multi-core performance for workflows outside of gaming. The easily accessible MUX Switch (which you can turn on via the superb onboard software) boosts performance substantially and is a good feature to see.
XMG in particular offers lots of upgrade options for the other specifications: you can add up to 64GB of RAM (different brand options and speeds being available) and up to two 2TB M.2 SSDs. All variants of this laptop come with an optomechanical keyboard that is a pleasure to both type and game on with nice big keys, as well as a good quality trackpad. An SD reader is also included, and a decent array of other ports and sockets besides.
Onto the display, and there are two resolution options with different refresh rates: the 1440p 165Hz variant will be of interest to the most people who may want to enjoy watching movies and perhaps some video editing and design alongside gaming. This variant has a solid real response time of around 7ms grey-to-grey which won't completely eliminate ghosting at this refresh rate, but almost does. It also has a great contrast ratio, peak brightness, and good color accuracy: the 98% sRGB color gamut is good enough for color-accurate work in the sRGB space, and definitely good enough for gaming. The other option is the 1080p 240Hz screen, which will be of most interest to those who prioritize getting the most FPS out of competitive online shooters at the expense of all else, although we haven't tested the response time or colors of this version.
Battery life depends on whether you go with the AMD CPU or the Intel version, with the former being about average at 5 hours of non-gaming use at half brightness, the latter being slightly below at around 4 and a half. The build quality of the XMG is respectable but it isn't as good as on some of the better-known brands on this list. Speaker quality is about average for a gaming laptop: they get loud but bass replication isn't really there. Fan and temperature control is very detailed using the onboard software, as are settings designed to improve the lifespan of your battery and internal components.
All-in-all the Eluktronics MECH-15 G3 is a great value RTX 3080 gaming laptop, well suited to true enthusiasts.
The best, and only, 14-inch RTX 3080 laptop
Razer Blade 14 AMD Gaming Laptop (RTX 3080, 1440p, 165Hz)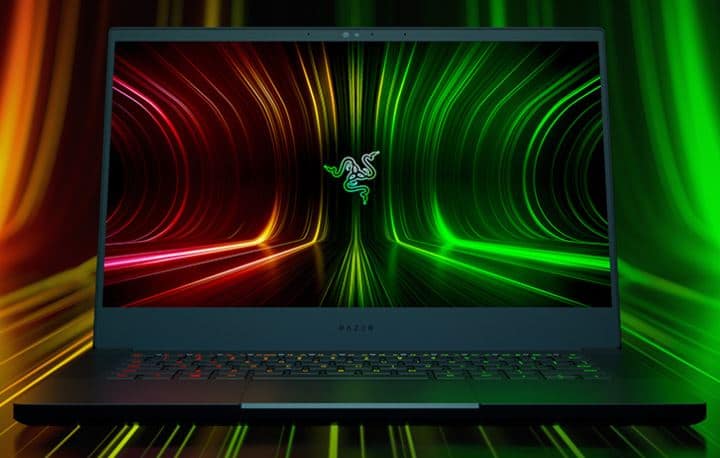 NVIDIA GeForce RTX 3080 (8GB) 90-100W
AMD Ryzen 9 5900HX is a great CPU

RTX 3080 in a compact gaming laptop

Good response times for a smaller laptop

Great color replication

Good contrast & peak brightness

Great build quality

Thin and lightweight

FreeSync
Only 16GB RAM which cannot be upgraded

Expensive

Low TGP, 8GB VRAM RTX 3080 GPU

No MUX Switch
Coming with a TGP of 90-100W, the Razer Blade 14 is the most underpowered RTX 3080 laptop on this page, but still represents the most powerful 14-inch gaming laptop on the market. Ultimately the reduced voltage and only 8GB VRAM are necessities due to the design constraints on such a small machine, and the fact that this thin laptop is still able to take on the latest, most demanding games on high settings, is a testament to the technological achievement it represents. A MUX Switch would have been nice, but as of 2021, there aren't any competing 14-inch laptops with this feature either.
Helping the situation is the fact that it is paired with the powerful AMD Ryzen 9 5900HX processor, which not only performs well in games but also gives great multi-core performance for any rendering workflows or other workstation tasks, again reinforcing the usefulness of this machine as a laptop for creatives as well as gamers.
Looking at the display, you get a 1440p/QHD panel with a 165Hz refresh rate that comes with FreeSync, and a 9ms real grey-to-grey response time. This response time is significantly slower than the other selections on this page, and you may notice some ghosting in-game as a result, but again it's the best you can get for a 14-inch gaming laptop and is a respectable score overall.
As far as color replication goes you get around 100% sRGB gamut coverage, which is superb, and approximately 83% AdobeRGB, meaning it's a solid choice for workflows in the sRGB space. Both contrast and peak brightness are also good, enabling you to see details in the blacks and use the laptop in well-lit areas without a problem.
The overall build quality of the metal-bodied laptop is top tier, as with all Razer products. It's not exactly the lightest machine, but in terms of its dimensions and general ergonomics, it is superb: a great portable device that can easily fit into a carry bag or backpack. So, everything considered, this is the best 14-inch RTX 3080 laptop that money can buy.
A superbly designed, slimline, 17-inch RTX 3080 laptop with 360Hz display option
Alienware X17 (360Hz, RTX 3080)
good gaming performance

superb response time

G-Sync

good cooling despite thin size

great color replication

great contrast & brightness

thin and portable

looks great

decent battery life

nice mechanical keyboard

microSD slot
very expensive

massive powerbrick for RTX 3080 option

flipped motherboard makes upgrading difficult
The Alienware X17 pulls off the impressive feat of being a thin and portable laptop, whilst not sacrificing graphics power, and also remaining remarkably cool under stress. The same cannot be said unfortunately of the smaller Alienware X15, which does suffer from lower TGP graphics cards and greater thermal throttling, so we'd always recommend picking the X17. It's not the lightest machine, particularly when combined with the power brick, but you won't find a more portable 17-inch machine.
The highest specced option of the Alienware X17 is a powerful RTX 3080 laptop with a 150-165W TGP. It comes with an Intel Core i7-11800H CPU and options for up to 32GB of RAM and 2x 2TB SSD drives. This is a very powerful machine for gaming, and performs decently in rendering scenarios as well, though admittedly not as good as some of the other models on this page with AMD processors.
There are different options for the display, ranging from a 360Hz 1080p option with a superb 1ms stated response time (which we'd recommend for pure gamers), to a 120Hz 4K model with a very respectable 4ms stated response time (the version for creatives who want to game on the side). In terms of color gamut, the 1080p display variant has 100% sRGB coverage, high contrast, and peak brightness, making it suitable for any color-based workflows in this space. The 4K option has superior Adobe RGB color replication, but at the cost of response time and refresh rate.
Besides the faster refresh rate and better response time, the 360Hz 1080p variant is also the only version that comes with G-Sync, and most importantly, a MUX Switch, to give a substantial additional performance boost in-game. For this reason, we would only recommend choosing the 4K option if you're planning on using the X17 for other uses besides gaming where it will prove useful.
In terms of other features, the mechanical keyboard of the X17 is a nice inclusion and feels great to use, though it doesn't come with a numpad which may bother some people. The different colored trackpad is also great and responsive. The selection of ports is good and includes a microSD card slot. The motherboard is of the flipped variety, making it more difficult to upgrade the GPU and CPU should you wish to, but at least the RAM can be upgraded.
The battery life of the RTX 3080 version of the laptop lasts up to around 5 hours of non-strenuous use in-game, which is far better than most historical Alienware releases, well known for their reliance on socket power, but about average for RTX 3080 laptops in general.
Taking everything into account, this is a superb, premium end RTX 3080 laptop with unparalleled quality of design. The only real issue is the steep MSRP, though price reductions are often available.
READ NOW: Best laptop under 400 USD (non-gaming)
---
Is an RTX 3080 laptop worth it?
As at the end of 2021, if you wanted to buy the most powerful gaming laptop, then a RTX 3080 machine was the pick for you. On a price-per-performance basis though, they are not necessarily the best choice. Generally speaking, RTX 3060 machines have the best bang per buck of the Nvidia GPU series, with the amount you pay per in-game FPS increasing as you go to RTX 3070 and then RTX 3080.
Additionally, not all RTX 3080 laptops are created equal, and whether or not an individual model is worth the money compared to another depends on a few factors, chiefly TGP and VRAM, which we will discuss more in our Things to consider before buying an RTX 3080 laptop section below. There are a couple of RTX 3070 machines, like the XMG Neo 15 / Eluktronics MECH-15 G3, which have such high TGP that they outperform the weaker RTX 3080 models, but for less money overall, so you may want to consider these as a more financially prudent purchase.
Still, if you want a machine capable of giving you the best FPS in-game and don't mind paying for it, the selections we've picked below are the best in the business.
Things to consider before buying an RTX 3080 laptop
What is TGP?
TGP stands for Total Graphics Power, and essentially refers to the amount of electricity that a graphics card can utilize in any setup, as measured in Watts (W). This has a direct impact on the number of computations that the GPU can do over any given amount of time. The higher the TGP, the better a graphics card will usually perform (although other factors will also feed into this). TGP is important for laptop graphics cards in particular because the limitations imposed by the chassis size of these portable machines, including on the cooling, often restrict the amount of power that can be devoted to the card. In each of our recommendations, we will discuss the TGP of the card and how this affects its performance.
What is VRAM? RTX 3080 VRAM options
VRAM is an important link in the chain of processing the data of a game program into the image on your display. In layman's terms, it temporarily stores the data whilst an image is being written by your GPU, and it's vital to ensuring a smooth and even representation of the complex imagery of a game, with no stuttering of frame drops. If not enough VRAM is available at any given moment, then conventional system RAM will be called upon to fulfill the same function, which can lead to major FPS performance drops in-game.
The majority of RTX 3080s in laptops come with 10GB of VRAM, although upcoming 2022 upgrades of the card promise to have 12GB VRAM and even higher. All these options are great for playing the latest games with no issue. Be aware though that some RTX 3080 8GB VRAM options exist in laptops, which are usually cheaper to buy or exist in smaller-sized laptops that necessitate smaller versions of the graphics card. These graphics cards often perform on par with some of the more powerful RTX 3070 laptops, rather than full RRTX 3080s. If you are buying a 15-inch or larger RTX 3080 laptop you should avoid buying an 8GB VRAM option, unless the comparatively cheaper price makes it worth the drop in performance.
RTX 3080 laptop price
An RTX 3080 laptop is basically the second most powerful of any Nvidia-powered laptop (TGP depending of course). As a result they are definitely premium devices, even though they're of the previous generation now. If the cheapest gaming laptops are gaming laptops under $500, and 'mid-range gaming laptops' ending around the 1,500 USD mark (check out our best gaming laptop under $1,500 guide for some examples), the RTX 3080 gaming laptops are definitely in the high-end, so you'll need to check out our best gaming laptop under $2,000 guide for the cheapest examples.
The best RTX 3080 laptop in 2023 frequently asked questions
Is there RTX 3080 for laptops?
Yes indeedy RTX 3080 laptops exist. Have a read of this here page for a look at what we consider to be the best, plus some great RTX 3080 laptop deals listed at the top of the page.
Can a RTX 3080 laptop run 4K?
RTX 3080 laptops can technically game at 4K resolution, though we'd probably recommend buying a high-TGP RTX 3080 Ti laptop if you want a smooth experience and the highest FPS possible, or alternatively waiting for the release of the RTX 4080 laptops and RTX 4090 laptops.
Some of our other gaming laptop guides
In-depth laptop reviews
'Best of' brand guides
'Best of' price guides
Final Word
This has been our guide to help you find the best RTX 3080 laptop in 2023 for your needs. If you're interested in seeing a wider selection of laptops that aren't limited to this one graphics card, then have a look at our best gaming laptop guides for different price ranges under Custom Gaming PC > Gaming Laptop in the main site menu. Do also, be sure to have a look at our main best gaming laptop page for the best Nvidia and AMD laptop models across all price ranges and brands.
---