Razer Blade 17 (2023) Review – 1080p 360Hz Gaming Laptop
An In-Depth Review Of The Razer Blade 17 With RTX 3080 GPU
Updated: Apr 15, 2022 6:42 am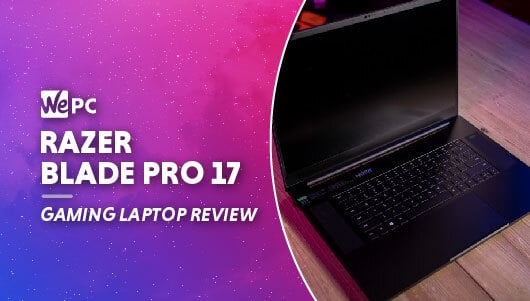 The Razer Blade (early 2021 version), in its various sizes and configurations, is one of the most hotly anticipated laptops this year, coming equipped as it does with the latest 30-series graphics cards from Nvidia. Top of the list is the Razer Blade 17 with 360Hz 1080p display and the RTX 3080 GPU – at the time of writing, the most powerful graphics card available for gaming laptops – and that is the machine we will be reviewing here today.
There has been some controversy surrounding the performance of some of the 30-series laptops, which we will discuss below and see how much it affects the performance of this particular laptop in our gaming benchmarks.
Before continuing we recommend you have a quick read of our guide on what to consider when buying a gaming laptop, whether you're a relative newcomer or otherwise – it's always good to refresh your memory before making such a big purchase to ensure you make the right choice!
Razer laptops aim to offer premium quality for a premium price, and this one retails for just under $3,200 – a princely sum! So let's get to it and see if this 17" beast is worth your hard-earned money.
Razer Blade Pro 17 (2021) FHD 360Hz
Graphics
NVIDIA GeForce RTX 3080 Laptop
Specifications And Upgradability
Tech Specs
Graphics
NVIDIA GeForce RTX 3080 Laptop
Weight
6.06 lbs / 2.75 kg
Dimensions (H x D x W)
0.78 in x 10.24 in x 15.55 in / 19.9 mm x 260 mm x 395 mm
Ports
1x UHS-III SD card reader, 1x Thunderbolt 3, 2x USB-C 3.2 Type-C, 3x USB 3.2 Type-A, 1x HDMI 2.1, 1x RJ45 2.5GB
PROS
RTX 3080 is the most powerful laptop GPU
Amazing 360Hz refresh rate
Great color replication for a gaming laptop
32GB RAM
17" screen
Thin
Good build quality
Good array of ports & sockets
Stylish reserved aesthetic
CONS
Laptop RTX 3080 is substantially less powerful than the desktop version
TGP of RTX 3080 is below that of competing laptops
Expensive
Lacklustre keyboard
Battery life could be longer
Runs warm
Ideally would have had a more powerful CPU
Somewhat heavy
Warranty And Software
The laptop comes with your standard one-year limited manufacturer warranty, though be advised if you open it up to upgrade the RAM or SSD at any point this will become void.
Software-wise you can download Razer Cortex, from which you can easily 'boost' the system performance for specific games or in general to get the most power out of your machine when needed.
Razer Synapse is another free download from which you can create macros for any connected Razer products, setup RGB profiles for the keyboard and any other Razer RGB peripherals you may have, and most importantly, tweak the fan speed and power usage/performance levels as needed for when your gaming or when you want to eek out as much battery life as possible.
The software is generally fine and relatively straightforward to use, although we did find that Razer Synapse crashed unexpectedly sometimes when opening the System settings. The software has been known to have some instability for several years now and it's slightly irritating that Razer haven't sorted it out yet. Aside from this quibble though, no complaints!
Design Aesthetics
As you'd expect from a Razer Blade, the 2021 series displays all the usual reserved elegance of the brand, and it's only the large Razer logo on the lid really which might divide opinion and broadcasts that this is a 'gaming' machine. Still, this slimline matte black laptop wouldn't look out of place in an office setting and looks good on the tabletop. Details such as the green within the USB sockets are little touches that really give it a tasteful quality look overall.
The dark brushed aluminum finish of the laptop feels nice to the touch, although it does gather fingerprint smudges quite easily.
The bezels around the screen are nice and thin and make the display look even better.
Size, Build Quality And Ergonomics
As with all of the Razer Blade range, the laptop is pleasingly slimline, and you won't find a thinner brand of laptop with this amount of gaming power. What it is not however is light – you really do feel the 6.06 lbs / 2.75 kg weight when you're carrying it, which may put off people looking for a more mobile gaming platform that can double as an office work typing laptop they can use on the train. This isn't really a criticism though, as you'll struggle to find a competing laptop with these components that comes in any lighter, it's just the reality of buying a 17" high-end gaming laptop.
If portability is your priority over screen size, then you can always opt for the 15.3-inch version which weighs in at 4.50 lbs / 2.04 kg.
Overall the aluminum laptop feels like it's been put together well, the hinge joint on the lid feels relatively sturdy and the general surface area, including the keyboard and trackpad, don't have the flimsy quality you get with some brands.
Keyboard & Trackpad
The keyboard of the Razer Blade 17 is somewhat of a disappointment. It is a membrane keyboard, as you'd expect, so it's a given that you won't get the typing experience that you would on a mechanical keyboard (or the mechanical-like keyboards you find in some laptops). That being said the keyboard is beneath the quality you'd find on cheaper laptops such as the Predator Triton 500 which also use membrane keyboards. The individual keys on the Razer Blade 17 are too small in area (the enter/return key in particular is just a horizontal line) and feel fairly shallow yet unresponsive when typing, in general the area that the keyboard takes up on the body of the laptop is too small, given the large amount of space available, and is positioned far back, meaning if you've got smaller hands it's not a particularly comfortable typing experience. A better design choice would have been to place the speakers alongside the keyboard behind it, allowing for a wider keyboard horizontally, and also shortening the trackpad a bit to allow more vertical space. Overall it's not a terrible keyboard, but we'd certainly say it's no better than average, and definitely not fitting of a premium laptop.
The trackpad is of the all-in-one clickpad design without separate individual buttons. As mentioned earlier, feels sturdy and well built. It is also of a decent size and ergonomically well placed, however on the downside it takes a relatively high amount of pressure to depress it – making it less than responsive and also a bit tiring on the fingers after prolonged use. The tracking of your finger when moving the cursor does feel very smooth and responsive though, and in this regard is one of the best out there – worthy of comparison to the MacBook Pro's.
Webcam and Inbuilt Microphone
The 720p webcam comes with InfraRed technology and can be used in conjunction with Windows Hello. The placement of the camera is on the top bezel of the screen, which is where it should be, and is generally of reasonable image quality and color replication, though not the best we've seen. Similarly, the inbuilt microphone does the job and is of an average-to-good quality.
Ports, Sockets And Other Features
You get a respectable amount of USB ports on this laptop including three USB 3.2 type-A ports and two USB 3.2 type C, one of which doubles as a Thunderbolt port. Thunderbolt connections are very welcome, not something you see on most laptops and one advantage that comes with having an Intel CPU. Besides this, there is the usual HDMI 2.1 as well as ethernet RJ45 2.5GB sockets, and finally, you get a nice UHS-III SD card reader.
Screen
Razer are well known for their exceptional displays, and the 2021 iteration of the laptop is no different. Although the 17.3-inch screen means the laptop is a bit less portable, for us the size increase over the 15.6-inch version is worth it for the greater immersion it brings during gaming, not to mention greater room for any other general browsing or work tasks you might do on it. Ultimately though this is a personal choice, and the Razer Blade 15 FHD 360Hz offers exactly the same laptop but with a more compact size, and for around $200 cheaper. You can also find a variation of the 15.6" laptop with the more powerful Intel i7-11800H CPU if this is a deciding factor for you.
Some might question whether they'd be better going with a 1440p resolution display on a 17 inch sized screen, and there's no doubt that you will notice a difference between the resolutions, however when you consider the relative size of the screen compared to a desktop monitor, it's still not particularly big, and we think 1080p does the job just fine.
If you're a competitive focused gamer, chances are that you'll always be running 1080p resolution in your game settings anyway to maximize those FPS, and this is the sort of customer who the 360Hz refresh rate aims to win over. As stated, this is the highest refresh rate you can get on a laptop screen at the time of writing and really is quite impressive from a technological standpoint.
That being said, the one drawback you should be aware of for this display is the response time: grey-to-grey you can expect to see a response time of around 15ms, which whilst better than most gaming laptops, may put off competitive gamers used to 1ms desktop monitors.
Color Gamut
Razer claims that the color gamut of this display covers 100% of the sRGB and Adobe RGB space. As you can see from the image above, we recorded a gamut coverage of 97.2% of the sRGB spectrum which equates to a gamut volume of 109.3% of the sRGB space – not quite 100% but close enough for sRGB work and still great for a gaming laptop.
Adobe RGB and DCI P3 results were both well below 100% coverage, though this isn't really surprising: if you want a color space that covers these then a gaming-focused laptop isn't your best port of call.
Color Accuracy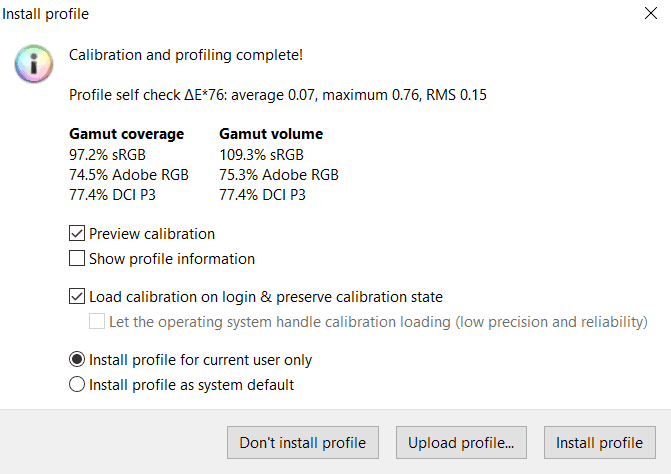 Color accuracy out of the box shows an average delta of 1.34, which is a respectable level of variance. White point is good, being fairly close to the ideal. Black depth is bordering on very good for an IPS panel, with quite a good contrast ratio (an IPS monitor will usually only push a thousand to one).
After testing it out of the box we quickly calibrated the monitor using Display CAL. After calibration, the results were greatly improved. The white point became near enough perfect. Contrast took a small dip, but was still good. The average delta reached 0.24 which is incredibly accurate, making it suitable for color-accurate work in the sRGB space.
All-in-all – whilst you will get better results if you calibrate the display like we did – users should find the out-of-the-box settings perfectly adequate even for some light editing, definitely for gaming purposes.
Panel Uniformity
For all laptops, we review we do a panel uniformity test after their calibration which tests for both luminance and color accuracy. We start on the centremost point as a reference and then test all the other sections of the screen (25 in total) to see how they compare.
Generally, any average color variation under 1.00 is good and shows up as green in the image below, though the average consumer won't be able to tell much difference below 3.00. Visual editors who work with color however may have a keener eye.
As you can see in the image above the majority of the panel displayed good uniformity, with the exception of the left-hand side. It's common that one or more edges of the screen show some variation. The only section that really showed substantial deviation was the one in the top left corner, with an average color variation of 2.73, which is bordering on noticeable even to the untrained eye. That being said, the panel uniformity, on the whole, was pretty good, and you'd only potentially notice a difference if you were doing color grading or other color-related workflows on the screen, but even then it would likely suffice for most uses. For gamers, this panel uniformity is completely fine, though obviously, results may vary on different individual laptops.
Brightness
As always we like to finish our color accuracy testing by running a quick luminance testing. On this particular laptop, we have a maximum of 320.30 cd/m² and a minimum of 14.87 cd/m² which is fairly in keeping with the claims made by Razer and generally a respectable range of brightness. For daytime viewing, we always recommend matching the brightness to 120 cd/m² which equates to a brightness setting of 37% under the brightness controls for this laptop.
Audio
The speakers on the laptop are placed alongside the keyboard and are capable of producing an impressively loud volume. The sound quality however is not great – whilst they have no problem hitting the higher treble frequencies, the bass output is non-existent. Overall the speakers sound tinny and thin – not great for playing music or watching films on, which is disappointing for a laptop of this price. They certainly don't match up to the speakers on a Macbook, which remain the best in the laptop game.
For headphone users, however, which encompasses the majority of 'gamers' and the people Razer is really targeting, the headphone support is good. The laptop comes with a free download of Razer THX Spatial Audio, which essentially takes the output the audio output from your laptop and runs it through a virtual device it creates named 'Speakers (THX Spatial)' which allows you to adjust it using an equalizer, add effects and enables simulated surround sound. The simulated surround sound in particular does add a lot to your immersion when gaming or watching films on the Razer Blade.
Battery Life
Unsurprisingly, given the hardware it carries under the lid, the Razer Blade 17 is a power-hungry beast, and you'll be lucky to get more than 5 hours of battery life from general usage workloads with Wi-Fi switched on as well as battery saver mode, though it might manage 6 at a push. Gaming on the battery, even on undemanding strategy games and the like, will sap the battery at a rate of knots – don't expect more than a couple of hours of playtime without a power socket to plug into.
Performance, Noise And Temperature
Noise
In general usage, whether it be browsing the web, watching YouTube videos, or performing word processing tasks, fan noise is fairly quiet and you can manually adjust the fan speed lower within Razer's Synapse application. You won't have to worry about annoying nearby colleagues or fellow commuters with a loud whirring.
When gaming, as you'd expect, the fans kick out significantly higher decibels, though not as much as many competing laptops with less powerful GPUs and CPUs do in our tests: not quiet, but as quiet as you're likely to get operating with this power in a laptop.
Temperature
Heat-wise the surface of the laptop, including keyboard and trackpad, get noticeably warm, even during undemanding, non-gaming tasks. This is seemingly the inevitable price you must pay for a laptop this thin containing these components with relatively quiet fans. If you've got hands that are prone to sweating, or will be using the laptop in a warm environment, you may find this a bit off-putting.
Gaming Performance
We ran the Razer Blade 17 on an array of games at both the highest and lowest settings to test its real world performance. All of these games were tested on the laptop's native 1920×1080 resolution.
In Doom Eternal we saw the best performance, getting an average 223 FPS even on Ultra Nightmare settings, which is unsurprising given that the game is relatively well optimized (compared to the other titles we benchmarked) and relies heavily on GPU performance.
On the other end of the spectrum Cyberpunk 2077, a notoriously poorly optimized game, managed an average of 61 FPS on Ultra Settings with Ray Tracing Ultra turned on, also scoring a particularly low 5 FPS on the 0.1% lows. Cyberpunk 2077 tends to rely on a mix of GPU and CPU power, the latter particularly in crowded scenes, and this may be partly responsible for these results. Low settings improved things significantly but still suffered from significant FPS drops during play.
Red Dead Redemption 2, another game that typically relies on both GPU and CPU power, only managed an average 33 FPS on Ultra settings, which is not an FPS we'd consider worth playing on. Even on a single-player 3rd person title, so you'll have to turn things down a bit to get a desirable 60 FPS or more. Thankfully the Lowest settings saw a pretty high average FPS of 121 achieved, and there are a lot of options in the settings menu you can tweak to get somewhere in the middle. The 0.1% lows were actually quite good, and as a result, we did not suffer any major spikes of FPS drop when playing.
Finally, Far Cry 5, a CPU-driven game, produced results that did not very to extremely between the Ultra and the Low settings. Although the average FPS capped out at 129 on low and 99 on Ultra, there was not much drop-off in the 0.1% lows which remained very high – indicating a smooth gaming experience.
Overall these results are roughly around what you'd expect from a 2080 Super equipped desktop machine with a comparable CPU, which matches what most people are reporting on the performance of the 3080 laptop version. So whilst this machine represents the best performance you're likely to get on a laptop at the time of writing, it might leave many people disappointed who were looking for FPS closer to what the true 3080 can achieve.
Some Of Our Other Gaming Laptop Articles
In-Depth Laptop Reviews
'Best Of' Guides
Final Word
The Razer Blade 17 gaming laptop with FHD 360Hz display is undoubtedly one of the most powerful gaming laptops you can buy. The screen is outstanding, both in terms of its color, contrast and brightness and the ridiculously high refresh rate, and the whole thing feels of a solid, premium construction. It's relatively quiet for a gaming laptop, comes with a good array of ports including an SD card reader and Thunderbolt connection, and is impressively thin even if it isn't lightweight.
However, we can't help but feel somewhat disappointed by the end product. Of less concern is the older i7-10875H for gamers (though a newer upgrade would have been nice at this price point for those CPU heavy titles), the issue is more around the performance of the Nvidia RTX 3080 Laptop version, which underperforms its desktop GPU counterpart by 30%-50% depending on the game. In part this is an issue that is out of Razer's hands – rather a combination of Nvidia's engineering and marketing choices (should a card half as good really be given the same name as the more powerful version?) and the limitations and compromises presented by cramming high-end technology in the body of a laptop.
That being said, Razer's commitment to producing one of the thinnest laptops around has meant that the TGP of the RTX 3080 in its machine is below that of its competitors. People who prize FPS above all else might be better suited going for the chunkier, less aesthetically pleasing, and ridiculously expensive Schenker XMG Ultra 17 Clevo X170KM-G with its two power cables, or alternatively the equally nice looking, but very hot running Alienware m17 R4, which is still significantly more pricey than the Razer – both of these also suffer from a battery length about a third of the Razer Blade however and are noticeably louder (watch this space for a thorough review of both!).
There are also other areas, of less importance but easier for Razer to improve upon, that we feel this laptop lacks in given its very high price tag: the underwhelming keyboard and poor ergonomic design of its size and placement, the warmth of the laptop surface even when not gaming, the poor sound quality of the speakers (even if they are impressively loud). Given the price tag and Razer's ambitions to be the gaming-focused, Windows equivalent of the iconic Macbook as a premium product – we would like to see some improvement here.
All-in-all if you've got the money to spend and want a nice looking 17" gaming laptop with a minimalist design that can just about operate as a mobile workplace computer and has enough battery life to function as a multi-purpose machine, there isn't really another option as good as the Razer Blade 17. If however, you don't mind having what amounts to a portable desktop as long as you maximize FPS, there are better performing RTX 3080 laptops out there.
Razer Blade Pro 17 (2021) FHD 360Hz
Graphics
NVIDIA GeForce RTX 3080 Laptop
---