Razer Blade 14 Review (2023) – 1440p 165Hz AMD Gaming Laptop
A Review Of The Razer Blade 14 AMD Ryzen 9 5900HX CPU, Nvidia RTX 3080 GPU Gaming Laptop
Updated: Mar 1, 2022 2:52 pm
The Razer Blade 14 with AMD CPU (2021 version), has been the most anticipated compact gaming laptop for some time – notable as being the first transition to AMD processors in the entire Razer line. The Razer Blade 14 comes in three different options, but today we're reviewing the most highly specced version, which sports an RTX 3080 GPU, AMD Ryzen 9 5900HX CPU, 16GB of RAM and 1TB SSD.
As ever we recommend you have a quick scan of our guide on what to consider when buying a gaming laptop, whether you're a relative newcomer or otherwise – it's always good to refresh your memory before making such a big purchase to ensure you make the right choice.
Razer laptops aim to offer premium quality for a premium price, and this one retails for just under $2,800. If you're interested in shopping around, be sure to check out our page of other premium gaming laptops for under $2,500. The question we're going to answer here is whether this 14" beast is worth your hard-earned money.
Razer Blade 14 AMD Gaming Laptop (RTX 3080, 1440p, 165Hz)
Graphics
NVIDIA GeForce RTX 3080 (8GB) 90-100W
Specifications And Upgradability
The Razer Blade 14 is relatively easy to get inside of, you'll just need a screwdriver capable of undoing the 10 TL5 screws, and then something to gently pry it open with. Once you're in though there isn't a lot you can do. The 1TB SSD in the single M.2 slot can be upgraded, as can the Wi-Fi 6E card, however, the 16GB of RAM is soldered to the motherboard and no upgrade slots are available.
The lack of RAM upgradability is disappointing, as although the RAM is pretty fast, 16GB doesn't bring a lot of futureproofing, and hinders slightly the effectiveness of the Razer Blade 14 as a workstation laptop, even with the powerful AMD Ryzen 9 5900HX CPU. Workstation usage, be it graphic design or video editing is still more than possible, just make sure you don't have too many applications running at once.
The Nvidia RTX 3080 graphics card is the 8GB VRAM option (as opposed to the more powerful 16GB VRAM version), and has a relatively low TGP of 90-100W – but this is the reality of the voltage limitations imposed by such a compact machine. It is easily the most powerful graphics card you'll find in a 14″ or 13″ gaming laptop currently available (in Q3 2021).
Tech Specs
Graphics
NVIDIA GeForce RTX 3080 (8GB) 90-100W
Weight
3.92 lbs / 1.78 kg
Ports
1 x USB 3.2 Gen 2 Type-A, 1 x USB 3.2 Gen 2 Type-C with Power Delivery and Display Port, 1x 1.4, HDMI 2.1 output, 1x 3.5mm headphone/mic jack
PROS
AMD Ryzen 9 5900HX is a great CPU
RTX 3080 in a compact gaming laptop
1440p display
Great color replication
Great contrast and brightness
Great build quality
Thin and lightweight
FreeSync
Good response times for a smaller laptop
CONS
Only 16GB RAM which cannot be upgraded
Expensive
Low TGP RTX 3080 GPU
Only 8GB VRAM RTX 3080
Fairly loud fans
Warranty And Software
The laptop comes with your standard one-year limited manufacturer warranty, though be advised if you open it up to upgrade the SSD at any point this will become void. You can also pay an additional $249.99 for the RazerCare Essential warranty, which lasts for three years and has 24 hour technical support but doesn't cover accidental damage, or the RazerCare Elite warranty, which does have accidental damage coverage.
Software-wise you can download Razer Cortex, from which you can easily 'boost' the system performance for specific games or in general to get the most power out of your machine when needed.
Razer Synapse is another free bit of software that comes with the machine which you can use to tweak the fan speed and power usage/performance levels as needed when gaming or when using the laptop more generally and you want to maximize battery life. The highest GPU setting boosts the GPU core speed by 100MHz and the GPU Memory clock by 400MHz. You can also use Razer Synapse to setup RGB profiles for the keyboard and any other connected Razer RGB peripherals and to create your own custom macros for connected Razer products that have that functionality.
The software is all well designed and easy to navigate, and unlike in previous iterations we didn't experience the occasional crashing of the software – so it looks like Razer have finally fixed this issue.
Design Aesthetics
The Razer Blade 14 AMD 2021 series has all the usual design hallmarks of a Razer laptop, and has the feel of a quality product.
The classic dark brushed aluminum looks and feels great. The surface does pick up smudges and fingerprints fairly easily but it is also easy to clean these off.
The bezels around the screen are nice and thin, important on a laptop with a smaller screen like this, and give an added elegance to the display.
The relatively subdued aesthetics of the Razer Blade gaming laptops mean they'd fit quite comfortably into an office setting. The large green Razer logo on the lid is the only real 'gaming' feature and has variable lighting which can be altered within Razer Synapse, including 'breathe' (though it will always remain green). Little details such as the green inside the USB sockets really add to the aesthetic appeal.
Size, Build Quality And Ergonomics
One of the key selling points of any 14″ laptop is portability and in this regard, you won't found a better high-end gaming laptop than the Razer Blade 14.
The dimensions of the machine are impressive: Height: 1.68cm / 0.66″, Width: 31.97cm / 12.59″, Depth: 22cm / 8.66″.
This makes it notably smaller than the nearest competing 14-inch gaming laptop, the ASUS Zephyrus G14. At a weight of 3.92 lbs / 1.78 kg it's heavier than the Zephyrus G14, but if you add both the chargers on they're about the same. It's important to remember that the Razer Blade 14 comes with a significantly more powerful GPU and CPU than any competing laptop of this size, and it's truly a marvel what Razer has managed to accomplish here from an engineering perspective.
Overall the aluminum laptop feels like it's been put together well. The hinge joint on the lid feels relatively sturdy and the general surface area, including the keyboard and trackpad, don't have the flimsy quality you get with some brands. The one criticism I would put towards the ergonomics of this laptop is the sharp corners on the depressed area beneath the trackpad – this is a recurring gripe I have with all Razer Blades and can be a bit uncomfortable after long usage if you repeatedly catch your hands on it.
Keyboard & Trackpad
The keyboard of the Razer Blade 14 is fine but could be better. As a membrane keyboard, you won't get the same typing experience as you would on a mechanical or mechanical-like keyboard obviously, but we feel the quality of the typing experience didn't match up to that of some other gaming laptops with membrane keyboards. The keyboard is beneath the quality you'd find on cheaper larger laptops such as the Acer Predator Triton 500, or ones from competing for 14″ laptops like the ASUS Zephyrus – the keypresses feel shallow and a tad unresponsive by comparison.
Previously I've found issue with the relatively small size of the keys and keyboard on the larger Razer Blades, but this isn't really something you can complain about much on a 14″ laptop. Movement of the side speakers to an alternative position might allow more lateral space for the keyboard, but ultimately there aren't any other competing 14-inch gaming laptops out there that offer bigger boards, so the Blade doesn't fall behind in this area.
The Razer Blade 14 trackpad is an all-in-one clickpad design without separate individual buttons. It feels sturdy and well built, and is of a good size, particularly considering the dimensions of the laptop as a whole. The pad is well placed centrally on the laptop, though the aforementioned sharp corners on the body of the Blade below it can snag on your hands. The tracking of your finger when moving the cursor is smooth and responsive, and, though a bit stiff when depressed, clicking feels responsive and satisfying – comparing favorably to the MacBook Pros.
Webcam and Inbuilt Microphone
The 720p webcam is of middling image quality, though it does come with InfraRed technology that can be used together with Windows Hello. The camera is thankfully placed on the top bezel of the screen, rather than the irritating under-the-chin angle you get on some laptops. The inbuilt mic is also average – we would have liked to have seen it better than this for the price, however, it does at least manage to exclude the fan noise from the laptop fairly well.
Ports, Sockets And Other Features
Considering its compact size, you get a good amount of USB ports on the Razer Blade 14 including two USB 3.2 type-A ports and two USB 3.2 type C – the latter of which also both offer DisplayPort 1.4 support and can be used as charging ports for the laptop (though the GPU output drops significantly if powered solely in this way). As this is an AMD laptop you, unfortunately, do not get the Thunderbolt support offered by the Razer Blade Pro 17 for example. Besides this, there is the usual HDMI 2.1, 3.5mm audio jack, and a Kensington Lock slot. As is typical of gaming laptops this size, you do not get an ethernet port, nor an SD card reader.
Screen
One of the big selling points of Razer Blade laptops is the displays, which tend to be among the nicest gaming laptops in terms of the way the contrast and colors pop.
As the name suggests the Razer Blade 14 comes with a 14-inch screen that has a 1440p IPS display. Here at WePC we are generally of the opinion that 1440p is of questionable utility for gaming purposes until you hit a screen size of around 17 inches, certainly at 14″ 1080p gives you all the image refinement you need. The drop in FPS that comes with playing games at 1440p means it's not really worth it unless you're going to appreciate the increased resolution visually, which we don't think 14-inch displays allow you to do.
So is there any point in getting a 1440p gaming laptop of this size? Well if you're interested in using it for some visual editing, color grading, graphic design, or other workstation tasks then the extra resolution can definitely come in handy. Besides this, simply watching any TV show/footage above 1080p is a better experience on this machine. One can always turn down the resolution settings in game to 1080p to get those superior FPS and then enjoy the benefits of 1440p in other general usage. Ultimately the closest 14inch competitors to the Razer Blade 14 are also 1440p, so if you're set on a portable gaming laptop of this size you don't really have any other option.
The maximum refresh rate of the Razer Blade 14 is 165Hz, meaning a maximum effective 165 FPS in game – more than enough for the purposes of most gamers who want to play either single player titles or fast-paced shooters (by contrast the PS5 and Xbox Series X are capped at a maximum of 120Hz display output). However, truly competitive gamers playing first person shooters will probably want to consider larger size laptops with higher refresh rate displays. This also applies to the response time of the Razer Blade 14 – at around 9ms grey-to-grey this is above the 6ms needed for seamless transitions that non-casual players of twitch shooters may desire, but still the Razer Blade 14 has the fastest response time of any 14-inch laptop on the market. For technical reasons we won't go into, it's just easier to get lower ms on bigger displays, so within its own market, the Razer Blade 14 can't be beaten on this.
Razer Blade 14 Color Gamut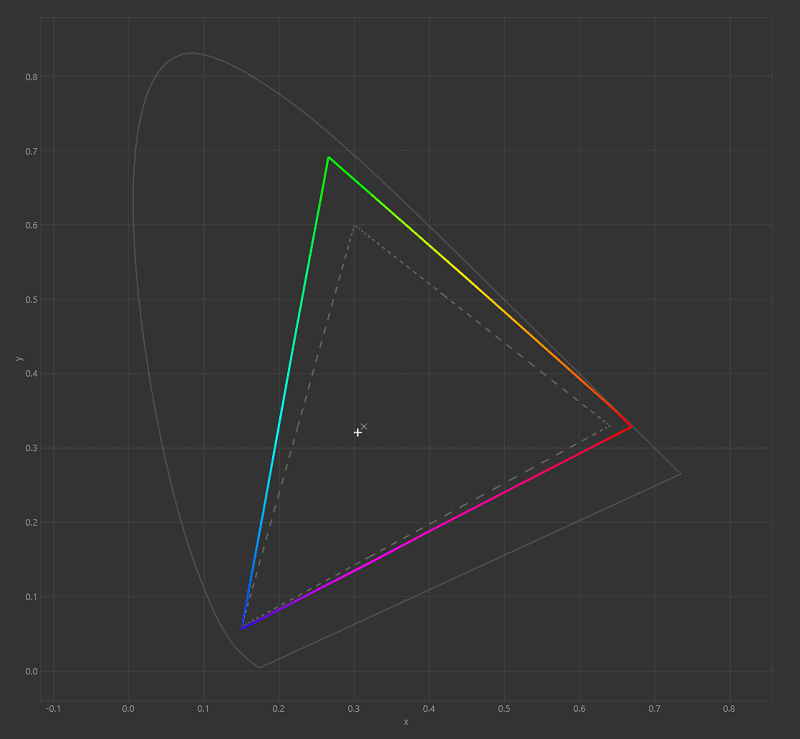 Razer claims that the color gamut of this display covers 100% of the sRGB space. As you can see illustrated in the above image, and in the one below detailing the results of our profiling test below, we recorded a gamut coverage of 99.8% of the sRGB spectrum which equates to a gamut volume of 142.3% of the sRGB space – which is effectively 100%. This means the display could definitely be used for sRGB colorwork alongside its function as a gaming laptop.
Adobe RGB coverage was substantially below 100%, but 85.0% is still good for a gaming laptop, if not quite good enough for professional work in this color space. DCI P3 results were even better, and at 96.7% you could definitely still use the Razer Blade 14 for work in this space.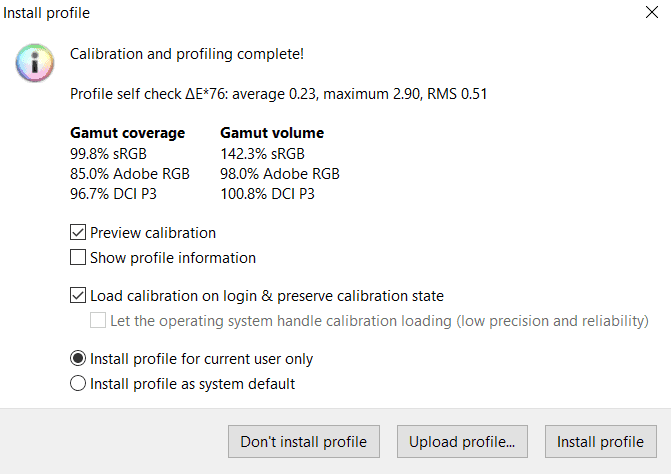 Razer Blade 14 Color Accuracy Out Of The Box
Razer claims that the displays on the Razer Blade 14 are "individually calibrated for quality and true color accuracy" (but we calibrated it again anyway). Prior to calibration, the color accuracy out of the box showed an average delta of 2.81, which is just above the 2.5 threshold of what we'd consider to be a respectable level of variance. The white point was good at 7117K, black depth was also good at 0.1111 cd/m², and the contrast ratio was about as good as you'd reasonably expect from an IPS panel at 996.9:1.
Razer Blade 14 Color Accuracy Following Calibration
After testing it out of the box we calibrated the display using Display CAL. After calibration, the results were somewhat improved, though not substantially. The white point came down a bit to 7029K and black depth to 0.1069 cd/m². Contrast improved a bit, with the ratio going up to 1044.2:1. The average delta was the biggest beneficiary, reaching 2.25, making it suitable for color-accurate work in the sRGB space, whilst not being the most accurate on the market.
All-in-all, while you will get better results in terms of color accuracy if you calibrate the display as we did, you should find the out-of-the-box settings perfectly adequate even for some light editing, definitely for gaming purposes.
Razer Blade 14 Panel Uniformity
For all laptops, we review we do a panel uniformity test after their calibration which tests for both luminance and color accuracy. We start on the centremost point as a reference and then test all the other sections of the screen (25 in total) to see how they compare.
Generally, any average color variation under 1.00 is good and shows up as green in the image below, though the average consumer won't be able to tell much difference below 3.00. Visual editors who work with color however may have a keener eye.
As you can see in the image above the majority of the panel displayed acceptable-good uniformity, with the right-hand side and bottom of the display showing the worst results. It's common that one or more edges of the screen show some variation. The section that showed the greatest deviation was the middle pane on the right, with an average color variation of 2.62 – bordering on noticeable even to the untrained but still within acceptable limits. Overall, although you'd potentially notice a difference in the display uniformity if you were doing color grading or other color-related workflows, the screen would probably still suffice. For gamers, this panel uniformity is totally fine, though bear in mind that results can vary between each individual laptop.
Brightness
We finished off our color accuracy testing by running a luminance test. On this particular laptop, we have a peak brightness of 365.00 cd/m² and a minimum of 17.59 cd/m² which is fairly in keeping with the claims made by Razer and a good range of brightness – the brightest setting in particular impressed. For daytime viewing, we always recommend matching the brightness to 120 cd/m² which equates to a brightness setting of 40% under the brightness controls for this laptop.
Audio
The side-placed speakers on the Razer Blade 14 have decent volume, though nothing to write home about. Perhaps unsurprisingly for such a small laptop, they don't quite match up to the impressive volume on the Razer Blade Pro 17.
The sound quality on the Razer Blade 14 speakers is middling, sounding fairly rich and atmospheric in some scenarios but verging on the tinny in others, depending on the frequencies of the source audio. The higher treble frequencies were replicated to good quality, but any sort of bass was pretty much non-existent. Although to our ears the speakers sounded less tinny than preceding Razer Blade offerings and showed a slight improvement in quality, they were still fairly weedy. Turning up the volume to the max also led to a reduction in quality. Ultimately the speakers are still above average for a gaming laptop, but substantially below that of the Macbook – we'd definitely recommend going with headphones whenever possible, whether it be in gaming or watching films.
Fortunately, headphone support for the Razer Blade 14 is good. Buying the laptop gives you a free download of Razer THX Spatial Audio, a piece of software that takes the audio output and puts it through a virtual device it sets up called 'Speakers (THX Spatial)' which creates an emulated surround sound effect, great for improving immersion in games and tv/films. Using this virtual device you can also adjust the levels as on an equalizer and add various audio effects.
Battery Life
Even packing a lower TGP RTX 3080, the Razer Blade 14 still has an impressive array of powerful, and therefore power-hungry components for a laptop this size. The more energy-efficient AMD CPU helps boost the battery life above what an Intel CPU could manage, but you'll still be lucky to get 7 hours in general usage even with battery saver on. Switching the display refresh rate down to 60Hz from the native 165Hz within the Razer Central software can get you another 40mins of battery life or so out of it.
Ultimately, you have to be realistic with what battery life you can expect of a gaming laptop of this size and power, given the smaller battery size. Although the competing ASUS Zephyrus G14 will last around two hours longer under the same conditions, the Nvidia RTX 3060 that machine comes with is notably less powerful.
As with virtually every gaming laptop, even playing non-demanding strategy titles will rinse the battery on this Razer Blade – it won't manage more than a couple of hours of playtime without being plugged in.
Performance, Noise And Temperature
Noise
In general usage, whether you're browsing the web, watching YouTube videos, or performing word processing tasks, fan noise is pretty audible, even after adjusting the fan speed lower within Razer's Synapse application. It's not the loudest we've heard, but still might prove annoying for some if you're after a quiet workplace machine.
When gaming, as you'd expect, the fans kick out significantly higher decibels, and the laptop does become louder than your average gaming laptop. This is unsurprising given the realities of cooling such a thin-bodied machine with such powerful components. Then again, if you're using headphones whilst playing (which we recommend) then this won't be too much of an issue.
Temperature
Heat-wise the surface of the laptop, excluding the keyboard and trackpad, gets noticeably hot during gaming; the trackpad got fairly warm, though the keyboard stayed relatively cool, in particular the WASD keys. In practical terms therefore the heat output was fairly average, particularly if you're using a separate mouse instead of the trackpad. This is impressive given the size of the machine and the components inside it, and probably explains why the sound of the fans is on the louder side.
Razer Blade 14 Benchmarks
We tested the Razer Blade 14 in a range of games, all at its native 2560 x 1440 resolution. Although this means it's a bit more tricky to compare it against competing 1920 x 1080 14-inch gaming laptops, this is ultimately the resolution the vast majority of people buying this laptop will be playing games on. Though it varies from game to game, you can generally expect to get an additional 60-90% FPS uplift in any given game if you switch down to 1920 x 1080 resolution.
Each game we benchmarked was tested on the Lowest possible settings, the Highest possible settings, and as close to Medium settings as we could manage in each title.
Competitive Shooters
Counter-Strike: Global Offensive performed significantly better than the other titles as you would expect, being an older game, hitting an average 136 FPS on the highest settings. Rainbow Six: Siege also performed well at 1440p, hitting an average FPS of 105 even on the highest graphical presets. For either of these games therefore, online play at 1440p is actually feasible. For Call Of Duty: Warzone, which only hit an average FPS of 84 even on the lowest settings at 1440p, we'd definitely advise turning the resolution down to 1080p. All three of the above games tend to lean more on the CPU than most titles (and the Ryzen 9 5900HX is one of the best for laptops), though the GPU is still the biggest determinant of performance. Fortnite only managed 66 FPS on the highest settings at 1440p, but performed respectably on medium and the lowest settings, so players will have to make a decision between lower resolution or lower graphical settings (or just turn both down for liquid fast gaming).
Single Player Games
In most titles we tested, on the highest settings (but with Ray Tracing turned off), the Razer Blade 14 managed to get around or above 60 FPS at 1440p, which is the minimum level we'd recommend for a single player, non-competitive title. This included Shadow Of The Tomb Raider, Resident Evil Village, and Doom Eternal, though, given the fast-paced combat in Doom Eternal, we'd suggest considering 1080p for this game in particular. Shadow Of The Tomb Raider is a fairly CPU-intensive game, though the GPU still takes the biggest workload, whereas Resi Village and Doom Eternal are GPU intensive.
When Ray Tracing was turned on, all three of these titles managed well below 60 FPS on the highest settings at 1440p, Shadow Of The Tomb Raider dropping particularly low, so we'd recommend switching to 1080p in each case if RTX is important to you.
Finally, Far Cry 5, a fairly CPU-driven game, produced underwhelming results on every setting at 1440p, so this is definitely one title we'd suggest switching down to 1080p for.
Razer Blade 14 Gaming Performance – The Takeaway
Overall these results are the best you are going to get from any 14-inch gaming laptop you can currently buy. Although the RTX 3080 the Razer Blade 14 comes with is a low-powered version through design necessity, it's still a more powerful GPU than comes with any other 14″ or 13″ laptop we've tested. 1440p gaming is possible on most titles, even at the highest settings, but we'd advise turning the resolution down to 1080p on most titles where quick reaction times are important (i.e. multiplayer competitive shooters).
Some Of Our Other Gaming Laptop Articles
In-Depth Laptop Reviews
'Best Of' Guides
Final Word
The Razer Blade 14 AMD gaming laptop with 1440p 165Hz display is the best 14-inch gaming laptop currently available, we'd go further and say it's the best compact gaming laptop on the market.
The main choice anyone thinking of buying this laptop must make is ultimately whether the ergonomic advantages of such a portable and thin laptop (and the Razer Blade 14 leads the pack in this regard), outweigh the disadvantages of a less immersive display size, and a comparatively underpowered graphics card.
The smaller size battery, and thin size of the Razer Blade 14 means the RTX 3080 within this laptop doesn't have the punch of 15-inch gaming laptops like the Eluktronics MECH-15 G3 Ultra Performance 15.6″ which cost less, or the MSI GE76 Raider (1080p) which costs about the same but gives you a 17-inch display. What you're really paying for with this machine is the portability and the practicality. Although it costs a pretty penny, it really is a beautifully slender machine – truly an engineering marvel. The more energy-efficient AMD CPU also means that the battery life of the Razer Blade 14, whilst not the highest, is the best you can reasonably expect given the constraints imposed by its size and power.
For this price we would have liked to have seen better speakers, which are distinctly average, and a slightly better keyboard. The 16GB RAM is probably the biggest drawback of this machine, particularly as it cannot be upgraded, although the 1TB SSD is respectable. Ideally, we will see 1080p, 14″ laptops from Razer and its competitors in the future with this CPU and GPU but higher refresh rates, or simply with the same refresh rate and a cheaper price point, but this is more a comment on the market as a whole, not this particular laptop.
All-in-all, if you want the most powerful compact gaming laptop on the market, the Razer Blade 14 is without equal. The AMD Ryzen 9 5900HX CPU and great sRGB color replication also make it a great lightweight workstation laptop as well. You can buy one now directly from the Razer website.
Razer Blade 14 AMD Gaming Laptop (RTX 3080, 1440p, 165Hz)
Graphics
NVIDIA GeForce RTX 3080 (8GB) 90-100W
---