XMG Neo 15 / Eluktronics MECH-15 G3 review (2021)
We review and benchmark the XMG Neo 15, both RTX 3070 and RTX 3080 versions, branded as the Eluktronics MECH-15 G3 in the US
Updated: Sep 8, 2022 2:15 pm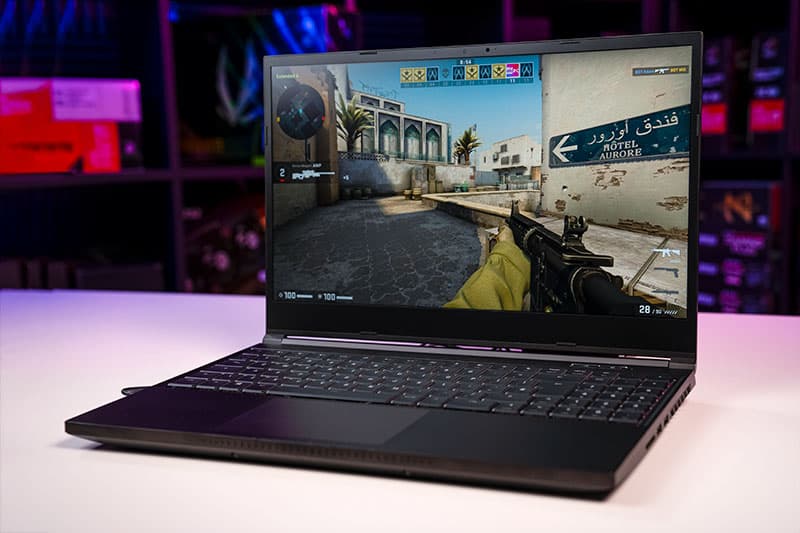 Update: read our review of the latest 2022 model XMG Neo 15 E22 / Eluktronics Mech-15 G3.
The XMG Neo 15 gaming laptop and the Eluktronics Mech-15 G3 are functionally almost identical machines both based on the same Tongfang chassis. Although there are a couple of minor differences between the two brands' models (different fan profiles etc.), the two machines are similar enough that this review can be used as a guide for both products. If you're based in Europe, it's an XMG laptop you're most likely to buy (we'd recommend retailer Bestware for full specification customization), if in the US then it's the Eluktronics. Both XMG and Eluktronics are lesser-known brands compared to the big names we're used to hearing in the laptop space, but in the past couple of years they've been making quite the splash, offering premium performance and customizability to enable you to build your perfect gaming laptop.
Today we will be thoroughly testing and benchmarking not one, but two units of the flagship XMG Neo 15, one with an Nvidia GeForce RTX 3070 graphics card, the other with an RTX 3080. We've heard that the RTX 3070 alone packs quite the punch in-game, so we're keen to see what both of them can do.
Read on to see if they live up to the hype and get a spot on our best gaming laptop list.
Memorial Day laptop deals are live! Get huge savings on gaming laptops on Best Buy or HP in 2022, on the likes of the Lenovo Legion Slim 7, HP Omen 16, and Acer Nitro 5 gaming laptops.
XMG Neo 15 E21 / Eluktronics MECH-15 G3 (5900HX)
CPU
AMD Ryzen 9 5900HX CPU
Graphics
Nvidia RTX 3070 (125-140W) / 3080 (150-165W)
Max Refresh Rate
240Hz/165Hz
Specifications & upgradability
Getting inside the XMG Neo 15 is relatively straightforward, you'll just need a Philips head screwdriver to undo the 10 screws, and then you can gently pry it open. Once you're inside you'll see the two upgradable M.2 PCI Express 3.0 x4 storage slots for SSDs and two DDR4 Dual Channel RAM slots, supporting up to a maximum of 64GB RAM (more than you'll ever need unless you're doing demanding workstation tasks) and an upgradable Wi-Fi 6 slot.
There are two Ryzen CPU options for this laptop – the AMD Ryzen 7 5800H and Ryzen 9 5900HX. Both the laptops we tested in this review had the latter option, which until the recent release of the AMD Ryzen 9 5980HX was the most powerful AMD laptop CPU available, and the best multi-core performing laptop processor across all brands. All versions of the XMG Neo 15 with this CPU come with integrated AMD Radeon RX Vega 8 graphics, besides the dedicated GPUs, which can be fully turned off using the MUX Switch to maximize performance at the expense of battery life.
In terms of the dedicated GPUs, we tested both the Nvidia GeForce RTX 3070 (8GB VRAM) and RTX 3080 (16GB VRAM) versions of this laptop. The 125-140W RTX 3070 in the Neo 15 is one of the highest TGP iterations of this graphics card available, and as we will see later, this extra voltage means its gaming performance is actually on par with many RTX 3080 machines. Similarly, the 150-165W TGP RTX 3080 in the Neo 15 is one of the most powerful you'll find in any gaming laptop, across all brands.
Tech Specs
CPU
AMD Ryzen 9 5900HX CPU
Graphics
Nvidia RTX 3070 (125-140W) / 3080 (150-165W)
Max Refresh Rate
240Hz/165Hz
Ports
3x USB 3.2 Gen 1 type-A, 1x USB 3.2 Gen 2 type C (with DP Connectivity), 1x HDMI 2.1, SD Card Reader, 2.5Gbit/s Ethernet RJ-45, Audio out 3.5mm, Mic in 3.5mm, Kensington Lock slot
PROS
High TGP RTX 3070 / RTX 3080 GPU
Powerful AMD Ryzen 9 5900HX CPU
Superb FPS performance in-game
Good color replication, contrast & brightness
Good value
Great optomechanical keyboard & trackpad
Superb onboard software
Good build quality
SD card reader
Fairly light
CONS
No G-Sync
Poor panel uniformity
Speakers & speaker positioning could be better
Webcam & mic could be better
Bland aesthetic
Software
The free software that comes with the XMG Neo 15 is called 'Control Centre' and it is fantastic. It is easy to navigate and packed with functionality for the enthusiast gamer. Not only does it allow you to switch off Nvidia Optimus easily within the general settings (then requiring a reboot) but it gives superb control over creating custom fan speed profiles for both the CPU and GPU, as well as three modifiable performance profiles that determine the voltage supplied to the internal components as well as cooling – Balanced, Enthusiast, and Overboost. You can also change the charging profile of the battery to either favour increased charging speed and capacity, sacrifice these in exchange for lengthening the battery's lifespan, or go for Balanced Mode in the middle. All the usual keyboard and lightbar RGB can also be customized from the Control Centre. Taking all that into account, this is definitely the best software we've come across in a gaming laptop.
There's also the THX Spatial Audio software which comes included with the laptop, but we will discuss this more under the audio section.
Design aesthetics
The XMG Neo 15 isn't going to win any awards for its looks. It's not an ugly machine, but its design is fundamentally utilitarian. It does have programmable RGB backlighting for the keyboard, and the fairly underwhelming light strip along the front beneath the trackpad (not a patch on that of the MSI GE66/76 Raider), which can be made to pulse in a variety of patterns and colors. Ultimately though, its matte black brushed metal exterior would fit in perfectly with any office play environment.
Size, build quality & ergonomics
The XMG Neo 15 is pleasingly compact, considering its power, and has the following dimensions:
Height: 2.6cm / 1.02″, Width: 35.98cm / 14.17″, Depth: 24.3cm / 9.57″
It's not any smaller than the best of the competition, such as the MSI GP66 Leopard, which is actually a little thinner at a height of 2.32cm, but it's still very portable.
At a weight of 4.63lb / 2.1kg the XMG Neo 15 is also surprisingly light, beating the 2.38kg MSI GP66 in this regard. This obviously excludes the weight of the power brick, which adds on an additional 0.92lb / 0.42kg: a weighty piece of kit, but necessary to supply such high voltage core components, and fairly compact in terms of its dimensions.
The overall build quality of the XMG Neo 15 is good and it feels like a relatively solid piece of kit. The lid and top interior surface of the case are metal, which adds to the solid feeling and reduces flex in the screen or the body of the laptop itself. The underside of the laptop's case is made of plastic. The hinge joint of the lid feels fairly sturdy, though we would say the thin lid feels a tad more flimsy than we would have liked, compared to competitors like the MSI GP66 Leopard or the MSI GE66 Raider, which are a bit chunkier here. Both the trackpad and the keyboard feel sturdy enough, though mechanical keys generally are slightly more prone to breakages than their tougher membrane counterparts.
One final detail that we particularly enjoyed with this machine is the lack of any sharp edges. This is an issue we've had with Razer Blades in the past, and though it seems a small thing, it can be quite irritating if you're constantly catching your hands on sharp edges when you type, but no such complaints here.
Keyboard & trackpad
The mechanical keyboard of the XMG Neo 15 is top-notch. Technically using optomechanical switches rather than fully mechanical ones, the keyboard sounds on the quieter end of the mechanical spectrum when being used, though still louder than a membrane option. The 'Tactile silent switches' each have a 2mm travel and a 1mm actuation point. In terms of how it feels it was a pleasure to both type and game on, definitely one of the nicest gaming laptop keyboards we've tested, although there is a strong amount of subjectivity when it comes to keyboards – if you prefer a stiffer membrane key then this probably won't be for you.
Many laptops place their speakers to the sides of the keyboard, taking up space that could be used for a wider keyboard with a greater number of keys, but this is not the case with the XMG Neo 15. The keyboard is nice and wide, extending right up to the edges, and the individual keys are full-sized, meaning fewer typing errors. The inclusion of a Numpad is also welcome, though again this depends on your personal preferences to a degree. The XMG Neo 15 trackpad is an all-in-one clickpad design without separate individual buttons. The 'Microsoft Precision Glass Touchpad' is nice and responsive and tracks the movement of your finger well. The pad has a satisfying click when depressed, feels sturdy and well built, and is of a decent size. The slightly off-centre placement also works well. There is a touchpad lock that can be activated/deactivated by tapping twice in the top left corner of the trackpad, causing a small indicator light to come on when activated.
Webcam & inbuilt microphone
The 720p webcam delivers a fairly poor image quality, though it does come with InfraRed facial recognition technology that can be used together with Windows Hello. The camera is thankfully placed on the top bezel of the screen, rather than the always frustrating under-the-chin angle you get on some laptops (and indeed older versions of the XMG Neo 15). The inbuilt mic is also not great and doesn't exclude fan noise or ambient sound particularly well. These are areas we hope XMG & Eluktronics can improve on in the future, though we understand in the interests of saving costs and prioritizing gaming performance the webcam and mic are pretty low on the list of priorities. An option for an improved webcam and mic when choosing specifications on the site would be a good idea.
Ports, sockets, and other features
Port coverage for the XMG Neo 15 / Eluktronics MECH-15 G3 is adequate. The laptop has 2x USB 3.2 Gen 1 type-A ports (one on each side), 1x USB 3.2 Gen 2 type-A port (on the right side), and 1x USB 3.2 Gen 2 type C on the back of the machine. Unfortunately, the USB type C port cannot be used to charge the laptop, which is slightly disappointing, and, as the model we were testing was the AMD version, it does not have Thunderbolt support either.
There are separate 3.5mm jacks for a microphone and headphones on the left side of the laptop, which is preferable to a combi-jack for gamers and streamers. There's also a Kensington lock. On the righthand side, the laptop has an SD card slot (full-sized), which is always a nice feature that furthers the utility of the machine outside of gaming, then again you'd expect to see one of these on a laptop of this price.
The rear of the laptop also has the usual HDMI 2.1 socket, and a RJ45 2.5 Gbit/s ethernet port.
Screen
As stated, the 15.6-inch XMG Neo 15 / Eluktronics MECH-15 G3 comes with either a 2560 x 1440 resolution 165Hz display (which is the one we have here) or a 1920 x 1080 resolution 240Hz option. Generally, we are of the view that 1440p for gaming only really comes into its own in 17-inch sized laptop displays, as for anything lower the size of the image on the screen just doesn't justify the extra expense. However, for watching media outside of games (anything above 1080p resolution) or doing any kind of photo work, graphic design, video editing or other workstation tasks then it does come in handy. It's hard to deny from a purely subjective standpoint that the high resolution does help make the screen of our XMG Neo 15 look nice and crisp.
Generally, we'd advise turning down the resolution in-game to 1080p in most cases to boost the Frames Per Second (FPS), though in some cases the extra fidelity of detail may be worth the hit to FPS performance. In our benchmarking tests we have tested each game at both 1080p and 1440p, so you can see the results yourself and make up your own mind.
In terms of frames, the maximum refresh rate of the 1440p XMG Neo 15 / Eluktronics MECH-15 G3 is 165Hz, meaning a maximum effective 165fps in-game. This is more than enough for gamers primarily interested in single-player titles, and even most of those who enjoy fast-paced online shooters will find it quite sufficient. To give you a comparative yardstick, the PS5 and Xbox Series X & S are capped at a maximum of 120Hz display output. For truly competitive gamers whose priority is squeezing every last frame out their games though, at the expense of turning down their graphical settings and the like, we advise that you pick the 240Hz version. Be advised that, if you're buying the XMG branded version of the 240Hz machine you will have to pick the RTX 3080 as your graphics card (the RTX 3070 is 1440p only).
In terms of response time, we were only able to test the 165Hz 1440p display option, which came back with a result of 7ms grey-to-grey, which is pretty good for a laptop, though not quite the best we've tested. It's only just above the 6ms threshold for the 165Hz refresh rate where you are actually able to detect any lag, and the reality is most people won't be able to notice any at all. Though we aren't able to say for sure, chances are that the 240Hz 1080p version will have a superior response time to match its faster refresh rate.
From a VRR standpoint, the XMG Neo 15 only comes with FreeSync, which is somewhat disappointing as we would have liked to have seen G-Sync support. You should be aware however that if you disable Optimus for the FPS performance boost, FreeSync becomes disabled anyway, as would G-Sync support. As we think the trade-off is definitely worth it, this renders the lack of G-Sync somewhat of a moot point.
XMG Neo 15 color gamut
XMG claims that the color gamut of this display covers 95% of the sRGB space, but we actually recorded 99.3% sRGB coverage in our test, equating to a volume of 107.6%. This means the display could definitely be used for sRGB colorwork alongside its function as a gaming laptop.
Adobe RGB coverage was recorded as 73.6% and DCI P3 at 76.2%, which are both substantially below 100%, and not suitable for professional work in these color spaces, but certainly good enough for a gaming laptop.
XMG Neo 15 color accuracy out of the box
Before calibration, the color accuracy of the Neo 15 out of the box showed an average delta of 1.75, which is a good result, substantially below the 2.5 threshold that a respectable level of variance should be. The white point pre-calibration was good at 6303K, not far off the 6500K ideal, black depth was also good at 0.1049 cd/m², and the contrast ratio was also solid for an IPS panel at 1156.8:1. These are all impressive results, and not far off the out-the-box performance of the Razer Blade Pro 17.
XMG Neo 15 color accuracy following calibration
Although the out-the-box results were certainly good enough for gaming, we wanted to see how far we could push the display with some calibration. This gave us a minor improvement to the average Delta (1.70) and gamma (2.18) at the slight expense of white (6299K), black (0.1069cd/m²), and contrast ratio (1130.7:1). All-in-all, it's probably not worth calibrating the display yourself, as the gains are minimal and the out-of-the-box performance is already good enough.
XMG Neo 15 panel uniformity
For all laptops, we review we do a panel uniformity test after their calibration which tests for both luminance and color accuracy. We start on the centremost point as a reference and then test all the other sections of the screen (25 in total) to see how they compare.
Generally, any average color variation under 1.00 is good and shows up as green in the image below, though the average consumer won't be able to tell much difference below 3.00. Visual editors who work with color however may have a keener eye.
As you can see in the image above the display of the XMG Neo 15 left something to be desired in this department. Only the very center of the laptop showed variation below 1.00, getting progressively worse as you go right and left from the middle. The yellow strips indicate a difference below 3.00, so aren't too bad, but the outer right and left edges were all above this, the worst being the bottom right and left corners at 5.58 and 5.83 respectively, which will definitely be noticeable even to the untrained eye.
All told this isn't a good result, and impacts the ability to use this laptop for any color grading or other color-related workflows where accuracy is key, regardless of the good results with the color gamut in our earlier test. Of course, you may get lucky and get a slightly better display than we did, but it's unlikely the difference will be massive. For gamers, this panel uniformity will still definitely do the job, and it won't really have a great deal of impact on your experience, but it's something we'd like to see XMG improve on in the future.
Brightness
We finished off our color accuracy testing by running a luminance test. On this particular laptop, we have a peak brightness of 381.103 cd/m² and a minimum of 20.29 cd/m² which is fairly in keeping with the claims made by XMG and a good range of brightness – the brightest setting in particular impressed. For daytime viewing, we always recommend matching the brightness to 120 cd/m² which equates to a brightness setting of 40% under the brightness controls for this laptop.
Audio
The speakers on the XMG Neo 15 are placed slightly behind the two nearest corners of the laptop to the user, underneath the chassis. This placement, whilst not unusual in a laptop, means the audio can get easily muffled if you're using the laptop on a soft surface like a blanket rather than a desk, As a result, this isn't a design choice we're fans of.
The sound quality on the XMG Neo 15 speakers is middling compared to the competition. The speakers are capable of some acceptable, warm mid-tones when playing music and of creating a degree of atmospheric immersion when gaming, but for any form of bass-heavy audio don't expect to hear much of it. While the volume on the laptop is impressive, turning up the volume past the mid-point led to a notable reduction in quality, particularly on the treble frequencies.
Gaming laptop speakers are notoriously bad, and those on the XMG Neo 15 are, at worst, average compared to the competition, but this is an area we would like to see XMG and Eluktronics improve on in the future. So whilst you can still play games and watch films when using the speakers on this laptop, headphones are by far the superior option in all scenarios, and headphones users will enjoy good quality sound output.The laptop comes free with a THX Spatial Audio for PCs app that you can find via the searchbar, though you will want to make sure you have the latest drivers installed for it. Besides the usual volume leveling controls, this app takes the audio output and puts it through a virtual device it sets up called 'Speakers (THX Spatial)' which creates an emulated surround-sound effect, great for improving immersion in games and tv/films if you're using compatible headphones. Two things to note when using this: this feature is only compatible with headphones that use a 3.5mm audio jack, any digital headphones that connect via the USB will not be compatible. Secondly you may find that THX spatial audio creates a more tinny, echoey effect through the speakers and headphones outside of scenarios which it is designed for – we'd recommend switching to THX Stereo for general use by using the sliding feature under Audio Settings within the app.
Battery life
As long as you set up the power usage settings correctly, the battery life for the XMG Neo 15 / Eluktronics MECH-15 G3 is respectable. With Optimus turned on and the performance profile set to Balanced, we recorded around 5 hours in our standard non-gaming test (brightness set to 50%, background applications switched off, two hours of fullscreen YouTube, then the rest idling on a web browser). With Optimus turned off and the performance profile set to Overboost, we got about three and a half hours in the same test.
Performance, noise & temperature
Noise
When the power setting was set to Balanced mode the fans were barely audible during general usage (viewing documents, watching YouTube, and web browsing) which is ideal.
When gaming, the fans became quite audible in Enthusiast mode, and louder still in Overboost mode, particularly in the more demanding games as you'd expect, though we wouldn't say they were any louder than your average gaming laptop. If you're using headphones whilst gaming then this shouldn't be much of a problem.
External temperature
The external temperature of the keyboard and trackpad when gaming was impressively cool on both enthusiast and overboost mode. Though after a while, some temperature increase was experienced on the WASD keys when running games on the highest settings. Considering the power of the internal components of this laptop and the FPS performance it kicks out, it's impressive compared to the competition.
As with any gaming laptop, we wouldn't recommend actually playing high-end games with this machine on your lap given the amount of heat it expels through the exhaust ports, though less graphically demanding strategy titles and the like will be fine. To its credit, a lot of the heat comes out of the back and sides of the XMG Neo 15, rather than the bottom, which helps to reduce thermal build-up on whatever surface you have it resting on, and generally improve the overall heat dissipation from the machine. Just make sure you don't have any heat-sensitive material placed on either side of it.
On Balanced mode during general usage and web browsing the XMG Neo 15 is about as cool as any other non-gaming laptop, which is exactly what you'd want.
Internal temperature
The internal temperature of the XMG Neo 15 was slightly high under stress when playing games on the highest settings in overboost mode, with the CPU temps regularly reaching between 90-95C and the GPU temps hitting just over 80C, but there didn't seem to be any drops in performance due to thermal throttling over time. Enthusiast mode took a couple of degrees off this temperature in most cases, and you may want to consider using this where you don't absolutely need to squeeze out every last drop of FPS performance just to prolong the life/effectiveness of the internal components over time. A cooling pad could also knock another 10C or so off this temperature, so may be a worthwhile investment if you're interested in prolonging the lifespan of the machine.
XMG Neo 15 benchmarks
We tested both the RTX 3070 version and the RTX 3080 version of the XMG Neo 15 in a range of games at both the native 2560 x 1440 resolution and at 1920 x 1080, which is the standard for most gamers.
The results you can see below all reflect performance with Optimus turned off using the MUX Switch via the onboard Control Centre software, but we did run tests on all the games with Optimus on also, and the difference was very significant in most cases. For both the RTX 3070 and RTX 3080 options when playing CS:GO and Rainbow 6 Siege, the difference amounted to an increase in FPS above 50%, which is quite phenomenal. On the other end of the spectrum, performance in Doom Eternal was not notably different at all. On average though we saw an increase of around 25% or more across most of the games we tested. In short, unless you consider the resultant loss of FreeSync to be too much of a sacrifice, there's really no reason to play games with Optimus switched on with these laptops, particularly as the software makes it so easy to turn off.
The below benchmarks were all tested in Overboost mode, which tended to add a few frames at most across the majority of games we played, compared to Enthusiast mode. As stated, if you're playing a slower-paced title you may want to stick to Enthusiast mode to ensure your laptop leads a long and healthy life. You definitely do not want to play any games on Balanced mode however, as this reduces FPS performance to 10% in some cases, rendering them virtually unplayable.
XMG Neo 15 RTX 3070 benchmarks
XMG Neo 15 RTX 3080 benchmarks
RTX 3070 vs RTX 3080 XMG Neo 15
The differences between the benchmark results of the RTX 3070 and RTX 3080 versions of this laptop were very interesting. In the majority of titles and graphical settings the average FPS uplift was about 9% for the RTX 3080, but there were significant outliers on both ends of the spectrum. The RTX 3080 performed better at 1440p overall, likely due to the increased VRAM of the more expensive card, as well as when Ray-Tracing was turned on, which can be attributed to its greater number of RTX cores.
On the lower end, CS:GO performed pretty much the same with both GPUs, the RTX 3070 version beating the more expensive laptop as many times as it lost to it. CS:GO is a particularly CPU-bound game, so this may be at least part of the reason for this. Generally, we noticed that the RTX 3080 was not operating at maximum capacity when running this game, so there may be some sort of capping occurring here, perhaps due to voltage constraints. The same was true for Rainbow 6 Siege, in which the RTX 3080 was consistently underutilized at 1080p, actually being beaten by the RTX 3070 slightly at 1080p, but pulling ahead slightly at 1440p.
Far Cry 6 is another fairly CPU bound game, though here we noticed performance more in line with expectations. At 1080p the gap was often only around the 5% mark, though when the resolution was increased to 1440p, the greater VRAM of the RTX 3080 bumped the performance uplift to as high as 16%. Fortnite showed a relatively small uplift at 1080p, but this increased at 1440p resolution. Assassin's Creed: Valhalla was one of the most consistent performers, showing 8-9% increase for the RTX 3080 on most settings and resolutions.
In Doom Eternal, a GPU intensive title, the uplift on the RTX 3080 laptop was most notable, especially at the highest graphical settings, but even more so when Ray Tracing was turned on at the highest settings, when it became huge: between two and three times the performance. Call Of Duty: Warzone also saw a pretty huge increase in frames, ranging between 6-37%, but averaging at around 23%.
Finally, Shadow Of The Tomb Raider saw a consistently high increase in performance for the RTX 3080 at all resolutions and with Ray Tracing turned both on and off, ranging between 6-22%.
1080p vs 1440p performance
Rainbow 6: Siege and Shadow Of The Tomb Raider both performed very well at 1440p, in a few rare instances barely dropping any frames at all compared to 1080p. The rest of the games showed fairly substantial differences, though, either on the average FPS, 1%, 01.%, or all three. Ultimately, which resolution is best depends on the game you're playing and your own personal preference as to FPS performance vs the crispness of the image, but both options look great.
Should I get the 1080p 240Hz XMG Neo 15 instead?
The answer to this question really depends on the games you are interested in playing and at what settings. CS:GO, Fortnite and Rainbow 6 Siege all got consistently above the 165FPS cap imposed by the 165Hz display on most graphical presets. With Ray Tracing turned off at 1080p, Doom Eternal performed well above this, even on max settings. So for titles like these, you may want to consider the higher refresh rate option. For the others, the 165Hz 1440p option is probably the better choice.
XMG Neo 15 gaming performance: the takeaway
In terms of FPS performance, the XMG Neo 15 is one of the most powerful gaming laptops money can buy. It's one of the few laptops that can handle playing the most demanding games on maximum settings, at 1440p resolution and still produce an FPS well above 100 (though not in every game).
As to whether you should go with the RTX 3070 or RTX 3080 option, this depends on the games you are going to be playing and your personal priorities. If playing titles like Doom Eternal on max settings with Ray Tracing on is a priority for you, then you may want to consider the RTX 3080. Similarly, if you intend to game on 1440p resolution, this is the option you probably want to go with. If neither of these applies to you, then we'd suggest saving several hundred dollars and going with the RTX 3070 version, which trounces most RTX 3080 laptops from other brands in any case.
Final Word
The XMG Neo 15 / Eluktronics Mech-15 G3 is one of the best gaming laptops money can buy, and fantastic value to boot.
We mulled long and hard about giving it a perfect score, but there are a few minor quibbles which just held it back, but only just. Panel uniformity is something we'd like to see improved in particular, as it was pretty poor and hinders the ability of the laptop to be used for color-accurate work alongside gaming. The speakers, which had little bass and were poorly placed, and the sub-par webcam and mic could also do with an upgrade. Aesthetics are subjective and pretty low on our list of priorities, but if they're important to you, you might be put off by the bland and unimaginative design of the XMG Neo 15, even if it's a winner in build quality terms. G-Sync support would have been nice, but as disabling Optimus would turn it off anyway, it's not that big of a deal.
Literally everything else on this laptop ranged between good and superb though. The onboard software gives unprecedented performance tweaking functionality for the gaming enthusiast and means that, even with these powerful components, the battery life is respectable if you just want to watch media and browse the web. In terms of FPS performance, you won't find a better performing RTX 3070 laptop out there, and this is the SKU we'd probably recommend to the majority of people, purely because a laptop that can outcompete the majority of RTX 3080 machines for this price (around $2,380 MSRP and the same in € at the time of writing) is a hard bargain to ignore. For those who really prioritize Ray Tracing, or getting the maximum FPS when gaming at the native 1440p resolution, then the RTX 3080 version of this machine may be worth the additional $400. Similarly, the 240Hz display option (not tested here) may be worth the same additional increase in price if your sole interest is in maximizing the real frame rate in competitive online gaming.
Whichever option you go with, the XMG Neo 15 / Eluktronics Mech-15 G3 is a superb high-end gaming machine, and we fully recommend splashing out and buying one.
XMG Neo 15 E21 / Eluktronics MECH-15 G3 (5900HX)
CPU
AMD Ryzen 9 5900HX CPU
Graphics
Nvidia RTX 3070 (125-140W) / 3080 (150-165W)
Max Refresh Rate
240Hz/165Hz
---